The 20th annual Tribeca Festival Audience Awards for Best Narrative Feature, Best Documentary Feature and the first-ever Best Online Premiere: First place winners of Best Narrative Feature and Best Documentary Feature each received a cash prize of $10,000, sponsored by AT&T.
Audiences voted in person and online for their favorites, featuring 250 in-person events inside and out, and close to 100,000 attendees in all five New York City boroughs as well as via the Tribeca at Home online viewing portal.
The Audience Award for Best Narrative Feature went to CATCH THE FAIR ONE, directed and written by Josef Kubota Wladyka and produced by Mollye Asher, Kimberly Parker, Josef Kubota Wladyka (United States). In this absorbing revenge thriller executive produced by Darren Aronofsky, a Native American boxer embarks on the fight of her life when she searches for her missing sister.
The Audience Award for Best Documentary Feature: BLIND AMBITION, directed by Robert Coe and Warwick Ross, written by Warwick Ross, Robert Coe, Paul Murphy, Madeleine Ross and produced by Warwick Ross and Robert Coe (Australia). The inspiring story of four Zimbabwean men who form their country's first Wine Tasting Olympics team and the mission that drives them to compete.
The Audience Award for Best Online Premiere went to FERGUSON RISES, directed by Mobolaji Olambiwonnu, written by Mobolaji Olambiwonnu, Bradinn French, Jeff Strik-er, Kai Bowe, Daisy Moand produced by Mobolaji Olambiwonnu, Daisy Mo, Tanayi Seabrook, TJ Ode-bunmi, Lisa Smithline, David Oyelowo, Jessica Oyelowo, Nick Moon and Tamika Lamison (United States). Before George Floyd, before Breonna Taylor, before America knew about Black Lives Matter, there was Michael Brown, Jr. Six years after the fatal shooting of the unarmed Brown by Ferguson police officer Darren Wilson, Filmmaker Mobolaji Olamb-iwonnu brings a new portrait of the community of Ferguson, including Dorian Johnson, and a narrative from within the city of hope, love and renewal.
Second Place for Best Narrative Feature went to LAST FILM SHOW, written and directed by Pan Nalin. Second Place for Best Documentary Feature went to A-HA THE MOVIE, directed and written by Thomas Robsahm. Second Place for Best Online Premieres went to VENUS AS A BOY, directed and written by Ty Hodges.
The Tribeca Festival is curated by Festival Director and VP of Programming Cara Cusumano; Artistic Director Frédéric Boyer; VP of Filmmaker Relations & Shorts Programming Sharon Badal; Senior Programmer and VP of Immersive Loren Hammonds; VP of Games Casey Baltes; Senior Programmers Liza Domnitz (features, TV, and NOW), and Lucy Mukerjee (features); Programmers Ben Thompson (shorts), José F. Rodriguez (features); Karen McMullen (features), Leah Sarbib (podcasts); and program advisor Paula Weinstein, along with a team of associate programmers.
About the Tribeca Festival
The Tribeca Festival, presented by AT&T, brings artists and diverse audiences together to celebrate storytelling in all its forms, including film, TV, VR, gaming, music, and online work. With strong roots in independent film, Tribeca is a platform for creative expression and immersive entertainment. Tribeca champions emerging and established voices; discovers award-winning filmmakers and creators; curates innovative experiences; and introduces new technology and ideas through premieres, exhibitions, talks, and live performances.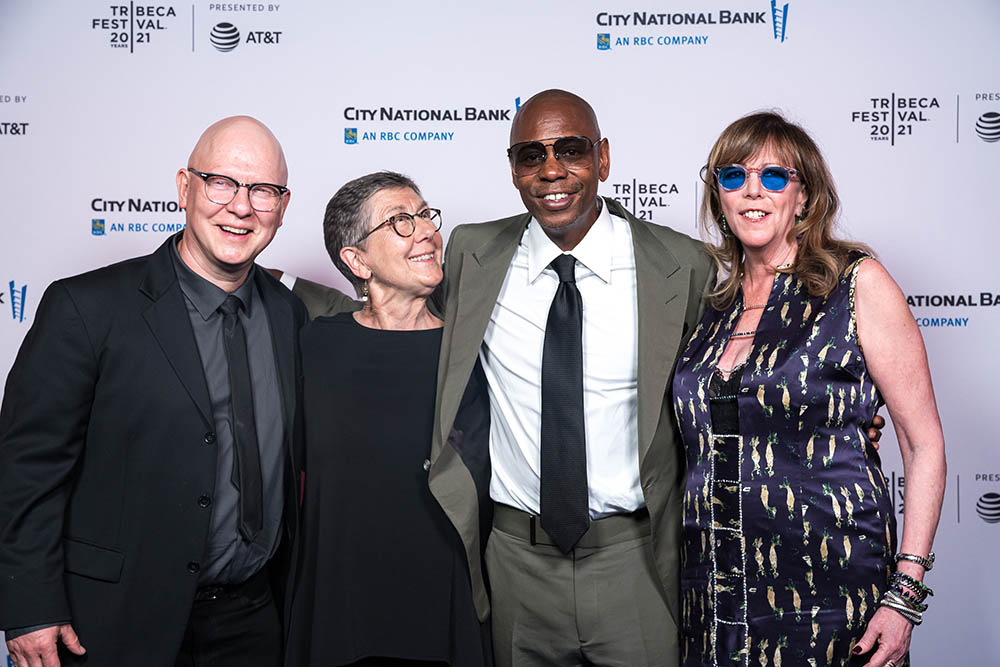 The Festival was founded by Robert De Niro, Jane Rosenthal, and Craig Hatkoff in 2001 to spur the economic and cultural revitalization of lower Manhattan following the attacks on the World Trade Center. Tribeca celebrated its 20th year June 9 – 20, 2021.  www.tribecafilm.com/festival
In 2019, James Murdoch's Lupa Systems, a private investment company with locations in New York and Mumbai, bought a majority stake in Tribeca Enterprises, bringing together Rosenthal, De Niro, and Murdoch to grow the enterprise.
About the 2021 Tribeca Festival Partners
The 2021 Tribeca Festival is presented by AT&T and with the support of our corporate partners: A&E, Alfred P. Sloan Foundation, Audible, Bloomberg Philanthropies, CHANEL, City National Bank, CNN Films, Diageo, DoorDash, Fresh Direct, Hudson Yards, Indeed, Montefiore-Einstein, Neutrogena, NYC Mayor's Office of Media and Entertainment, Persol, P&G, PwC, Roku, Spring Studios New York, United Airlines, and Unreal Engine.