I pick up on the incessant buzzing of clippers as soon as I walked into Staten Island's TrueGents Barbershop at 2035 Victory Boulevard.
A movie plays on the big TV screen as barbers worked their magic. Seems like tons of hair are piling up on the floor though barbers continually sweep them aside to keep the luxurious shop clean
"I can fix you up after this guy, boss, just sit tight!" says Rohaiz Dar to me.
All the barbers routinely look at customers entering the shop, but Rohaiz Dar is usually the first to acknowledge anyone who steps foot into the shop. Respectful and welcoming, Rohaiz knows how to treat a customer.
His effortless use of the clippers is like a head chef skillfully chopping up onions with ease. A young man on the chair, with a freshly cut taper fade, thanks Dar for a great haircut.
Now, it is my turn to sit on that chair.
Barbers converse about numerous topics and their wisecracking can resonate around the room, including jesting, including jesting about who's the best. All of this is going on while a barber is precisely shaping a man's beard, and another barber sits at the register to greet customers who enter the store.
Rohaiz Dar then says to me, "Whats up, call me Rohaiz. What can I get you today boss?"
Rohaiz, 26, moved from Pakistan to the U.S. when he was 3 years old and grew up in Boston with his two siblings and a single mom from whom he said he gets his inspiration from. She raised three kids mostly by herself after their father wasn't helping out. While doing eyebrows for people all by herself, she trained her kids to work hard.
Rohaiz started cutting hair alongside his friend Nick. They started off around 16 years old, cutting hair of family members and anyone whom they could get their hands on. Says Rohaiz, "My mother and my best friend are my biggest inspirations, they are the ones who really made me become a barber."
The hard work of his mother and the attitude and temperament of those around Rohaiz at his young age inspired him to be the barber he is today. "Now, my friend cuts hair for the Boston Celtics players, Jayson Tatum, Jaylen Brown, Marcus Smart, all of them," says Rohaiz.
Growing up, Rohaiz decided that he didn't want to work for a paycheck, he wanted to work his own hours. "I'm not that guy who wants to work for a paycheck, I prefer having my cash in my hand, that's just how I feel about it," he says. He enrolled in Plymouth State University in Plymouth, New Hampshire, a rural town in Grafton County, New Hampshire, in the White Mountains Region. It has a unique role as the economic, medical, commercial, and cultural center for the predominantly rural Plymouth, NH Labor Market Area, according to Wikipedia.
"Cutting hair in college, 20-22 people in 7 hours and especially in weekends, would be close to" him earning "2 grand," he laughs and says, "I just went to college to have fun, that's the real answer, but I was there for business and sports management." Rohaiz says, before getting the job at TrueGents, "My aunt actually came in here and recommended me to this shop while I was in Boston, and, so, Dana, the boss, liked my work and I got to work here, so that's what I'm doing here right in Staten."
I ask Dana Catalano, the manager, about Rohaiz and how they met. She tells me, "Meeting Rohaiz was interesting because he was from another state, his aunt came here and recommended him." Dana laughs. "After that he came a week later, and he was in here every day after that. What I admire the most about Rohaiz is that he wants this job and he cares; he wants to do this every day, he has a passion for cutting hair."
Catalano tells me that "a license, and obviously you should know how to cut hair, and the drive to want to know more about hair, are important factors in working here. Honestly, I think he does the best skin fades … his skin fades are good, my taper fades are better though."
Most men's haircuts include tapering to some extent, particularly near the base. A Taper leaves quite a bit of hair above the hairline, and blends the side and back of the hair smoothly to the top of the head. In other words, Taper fades reduce thickness of hair towards one end, not all throughout the head. The term Taper Fade is just a term used by many people to combine the fade and the taper hairstyles since they're so similar.
As Rohaiz finishes up my haircut, another barber takes a seat near us. I ask the other barber for his name and how Rohaiz and other barbers deal with different customers. The barber shop is diverse and the barbers infuse their culture and customs into the store.
That is, Hispanic, Pakistani, Italian, you name it. The shop is diverse with many cultures intertwining in one area.
Elvis responds to my question, saying, "When you work in a service industry, you will meet every kind of person." Rohaiz agrees and nods. Elvis continues, "There will always be a customer that complains, no matter the service, if they don't like me, that's their desire. But at the end of the day we have to be professional, and Rohaiz is one of the most professional barbers I've worked with."
When Rohaiz finishes my haircut, and shows me my hair in the mirror; I nod as I see the clean fades in the back and sides of my hair; I ask him if he ever thinks about moving back to Boston.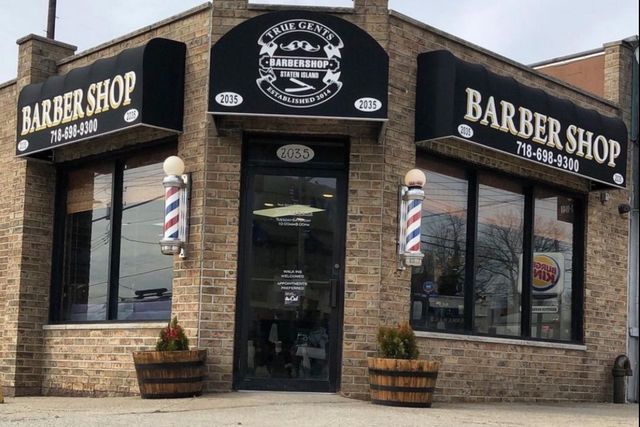 He shrugs as he cleans his scissors and clippers. Then he reaches for the barbers alcohol and sprays it on my hair, shrugs one more time and says, "I love Boston more but I don't think I can go back. I love being close to family here in New York, I miss my people, and I can turn up here and there, but you miss family in the end of the day."
I get up from my seat, look at myself in the mirror and casually high-five Rohaiz for an amazing haircut. "This is a fresh and clean taper fade, thanks bro," I say, as new customers walk in, and Rohaiz greets them: "Hey, how are you guys doin. What do you want to get today, boss?"
Kirby Inot can be reached at KIRBY.INOT27@myhunter.cuny.edu