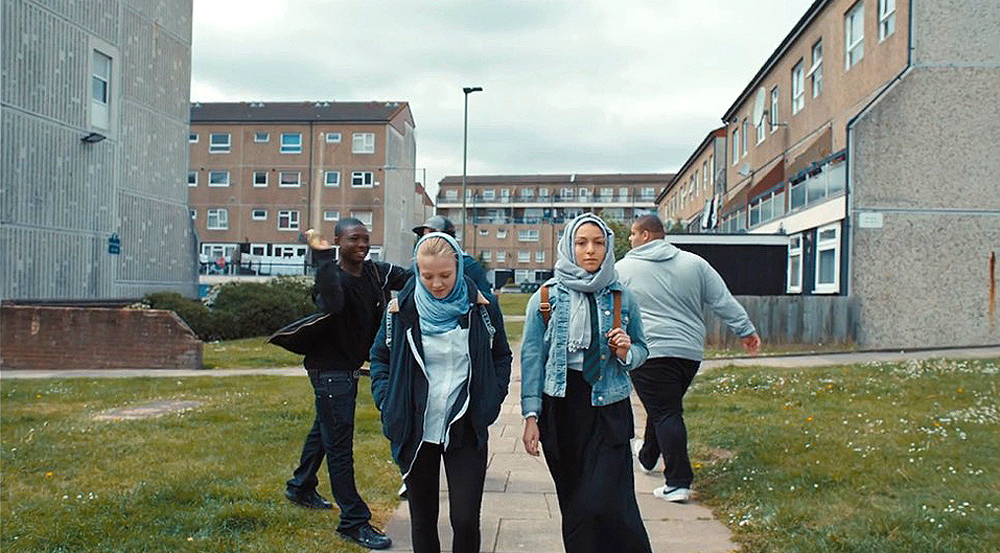 By Gregg Morris
"I wanted to tell a story that captures the daily injustices, individual and institutional, in an environment like the estate I grew up on, a place that struggled with racial tension and simmering rumors." – Director Toby Fell-Holden.
That be so, he succeeded with a masterpiece starring two exquisitely fetching and compelling high school femmes, Tina (Charlotte Beaumont) and Dana (Genevieve Dunne) coping with intertwining fates in a working class London neighborhood suffused in rank bigotry.
It's 17 minutes have the heart and soul of a spell-binding full-length feature, each scene immaculate and the story of the two is transcendent with scenes and perceptions that are hypnotic. Tina, white, middle class, with a strong sense of identity that could be perceived as brass, refuses to participate in the raunchy bigotry of her neighborhood friends and schoolmates. She narrates the story like a memoir. Dana, Muslim, middle class, also has a strong sense of self but is almost overwhelmed confronting the daily humiliating gauntlet of taunts and vicious acts from female peers and the even more menacing sexual leering of neighborhood thugs.
An attack on Dana at school brings them together – Tina attacks the female bullies. Tina has been smitten with Dana from afar. "She was beautiful. People say she was from Iraq or Afghanistan," says Tina early on, narrating, on a particular day when Dana and her father are under verbal siege by neighborhood tuffs brazen with their macho bravado as Dana is taking care of laundry on the balcony of their home and her father sits on the steps. Says Tina, who pulls no punches in her narration, "What difference does it make. Point is, all the boys, she is what all the boys on the estate wished they could fuck but never admit it."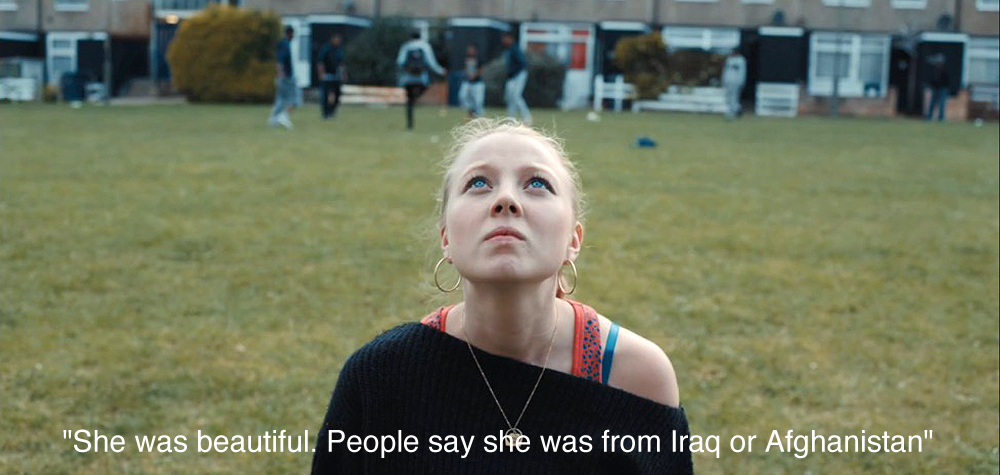 Tina and Dana bond after the attack. This reviewer was rapt seeing how Fell-Holden, who also wrote the script, tells the story of the evolving relationship in subtle and direct ways as the two femmes reveal more about themselves to each other and the audience, of course. Fell-Holden is true to his comments in his Director's Notes. "BALCONY," he writes, "intends to provoke as we follow a violent teenage girl's account of a forbidden relationship with a Middle Eastern girl who is the victim of prejudice and shame. Through the protagonist's blinkered perspective, the film aims to point a finger at the viewer."
Fell-Holden's BALCONY actually punches the viewer in the gut like a fearless pugilist and the jabs this reviewer never saw coming are powerful. Audiences should pay special attention to Tina's comments early in the move: "I mean nobody knows," she says, watching Dana from afar and imagining what her life is like as Dana hangs laundry on the second-floor balcony of the apartment she shares with her dad. People, Tina says, "tend to fill in the blanks with their imagination."
The other cast members and the landscape add to the realistic feel of this film about the mean streets of Tina's and Dana's neighborhood. Balcony was nominated for Best British Short at the BIFAs and screened at the 66th Berlinale film festival.
Awesome!
TFF Shorts in Competition: Narrative
Director, Screenwriter: Toby Fell-Holden
Language: English
Country: U.K.
Premiere: North American
17 minutes
Cinematographer Brian Fawcett
Composer Terence Dunn
Cast: Charlotte Beaumont, Genevieve Dunne, Umit Ulgen, Natalie Caswell, Simon Meacock, Mika Simmons, Hebe Beardsall

Gregg Morris can be reached at gmorris@hunter.cuny.edu