Fortunately for this reviewer, he screened BARE first before he got around to reading the Press Notes and publicity material (for biographical content) about Director Aleksandr M. Vinogradov's visually stunning 91-minute film about the Belgian choreographer Thierry Smits's creating his new visually stunning contemporary dance piece, Anima Ardens, stirring up my collective unconsciousness and consciousness to a feverish pitch: As has happened with every five-star movie I've seen and had to see again and again and again; like with every five-star piece of music I've listened to and continue to because the magic is always there; like every dazzling slam-dunk moment of a basketball game I've watched or a 100-yard touch down run unfolding before me, recalling those because the magic of those moments still reverberate. And I don't want to leave out sumptuous five-star feasts that made me sway and swoon and get greedy for more.
The athleticism of 11 men whirling, pirouetting, dashing on a huge alabaster stage as well as enmeshing and scrumming with arms and legs and heads and torsos going this way and that, rhythmically and synchronously and kinetically, forming and reforming edificial shapes and collages with human building blocks that expand and melt away into other forms and entities was transfixing.
At some point in the 91-minute piece, perhaps 30 minutes in, maybe a few minutes earlier, the idea in my head that I was watching 11 nude men in a powerful performance piece segued, or seem to segue, transcendentally to another level of perception transfixing me in a stream of flowing scenes that had me gliding ethereally from one to another.
Yet, at the same moments, one part of my brain was misfiring about the narrative. A mystery. The only solution was to t watch BARE again and again – which I haven't had time to get around to, yet.
What follows is a few selected passages from the Director's Statements of the Press Notes to a add as much clarity as possible to what this reviewer experienced with this must-see movie.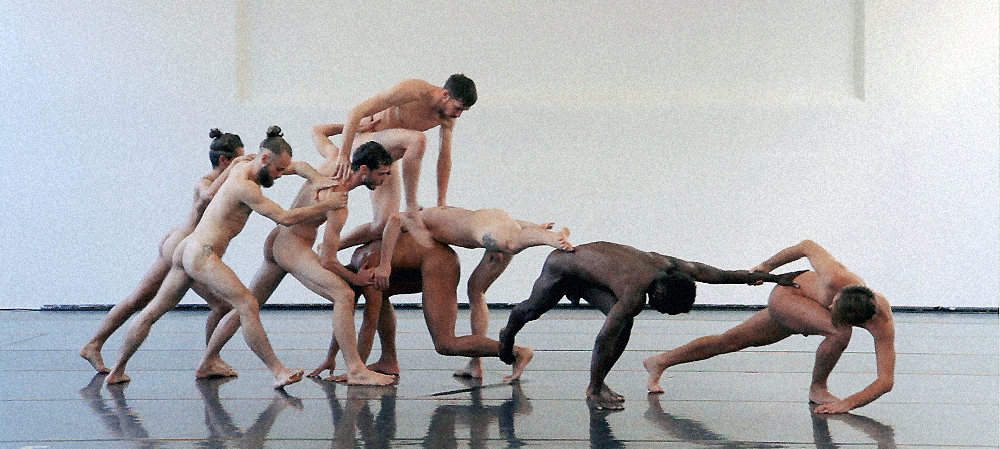 ---
Director Aleksandr M. Vinogradov: "Making a documentary about the making of a nude dance performance has been quite a job in itself already, because there are so many clichés connected with this genre. It was important for me to document with this film the original working method of Thierry and his unique choreography.
"But it was even more important to reveal his relationship with the dancers, their reactions to new challenges through the process, and their transformation by the end of the creation. Additionally, with this project, I want to express that nudity is not trivial. In a society that tends towards absolute control and prudishness, artists must react. That is why Thierry Smits said about his performance that: '… this is my attempt to prove that using nude male dancers will make them look more human, and it strengthens the identification process.'"
Too abstract for this reviewer but nevertheless – "Our body is much more than just a natural, anatomical and physiological entity, but it is a complex and a changeable social element," the director also says. He continues, "Social and human sciences started to investigate a human body in connection with the philosophical task related with material and non-material culture, and much later within the history of art."
And – "Then art is probably one of the tool for the researchers which adjusts more complexity and excitement through the process of exploring the subject."
Close to wrapping up – "Keeping that idea, I started my research within the male nudity in the performing art, which has more controversy, compared with the female nudity, as it has been explored more often. This research became a foundation for my further reflection in a documentary film BARE by dealing with male performing nude on the stage.
Wrapping up – "What I finally really came to admire in Thierry Smit's performance was that the movements were proposed and created by dancers themselves in collaboration with Thierry. They made a performance in which dance as we've been used to see it it before no longer exists. Performances with nudity are created by choreographers from different countries and cultures, with different perceptions of aesthetics, and different influences of various religions and political situations, and in completely different choreographic styles. But despite the differences, the effect of their work is similar and obvious: a decrease in theatricality and the appearance of a naked body in the modern avantgarde performance significantly complicated what until recently, so habitually and quietly, has been referred to as "dance."
---
Aleksandr M.Vinogradov
Director | Producer
Aleksandr M. Vinogradov is Karelian film director, who was born in the North of Russia. He moved to Moscow in 2002 and in 2012 graduated Moscow Film School with a short film "Five Steps of Butoh" about a Russian dancer performing the contemporary Japanese dance butoh. The film got Grad Prix, Best Documentary and Best Cinematography awards at Telemania Film Festival in 2012 and went to festivals in Europe. In 2013 he started documentary filmmaking master program DocNomads. His graduation film "Call Me Chaos" was premiered at Visions Du Reel in 2016. The same year Aleksandr applied to LUCA School of Arts to the visual arts master program. Meanwhile he was developing two feature documentaries: a character-driven story "FORBIDDEN TANGO" about LGBTQ tango dance community in Russia and an experimental observational film "BARE" about nude male dancers in the performance of the Belgian choreographer Thierry Smits. His graduation work from LUCA School of Arts was a short film "Under the dress" about a personal story of the director dealing with the sexual identity. The film was premiered at Visions Du Reel in 2019.
Thierry Smits
Choreographer | Producer
For about 25 years, Belgian choreographer Thierry Smits has asserted an artistic approach that is well off the beaten path in many respects, one that is frequently controversial and often goes against the tide. Alternating pure dance productions with more performative pieces, his work explores our relationship to the body – as an object of desire, pleasure and finiteness – which Smits considers, today more than ever, as a political space, "the only free territory left to us."
Since the setting-up of his company in 1990, Thierry Smits has created over thirty dance performances. Among them Eros délétère (1991), Red Rubber Balls (1999), D'ORIENT (2005), V.-Nightmares (2007) and To the Ones I Love (2010). His creations, while characterized by an acute visual sense, oscillate between sober contemporary lines on the one hand, and pop, queer and often provocative aesthetics on the other hand. But, whatever the form, Thierry Smits' performances constantly bear witness of a high technical rigour and gestural inventiveness, of an indisputable frankness and generosity.
_______
ABOUT DOC NYC
America's largest documentary festival, celebrates its 11th edition from November 11-19 online and available to viewers throughout the US. The 2020 festival showcases 107 feature-length documentaries among over 200 films and dozens of events. Included are 23 World Premieres and 19 US premieres. Fifty-seven features (53% of the lineup) are directed or co-directed by women and 36 by BIPOC directors (34% of the feature program). Conversations with festival filmmakers will take place in daily "DOC NYC Live" events, and festival screenings will also include pre-recorded filmmaker Q&As after the films.
Gregg W. Morris can be reached at gregghc@comast.net or profgreggwmorris@gmail.com