Editor's Note: This Review is Part 2. Click here if you missed Part 1, The Introduction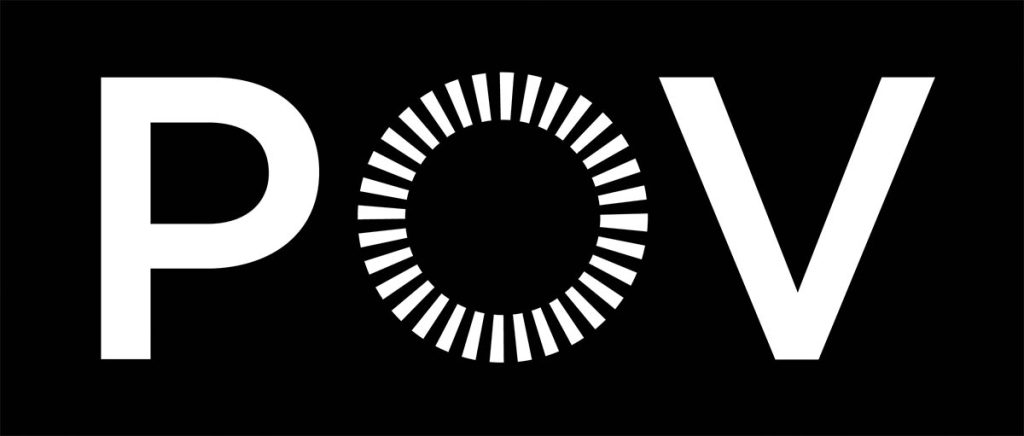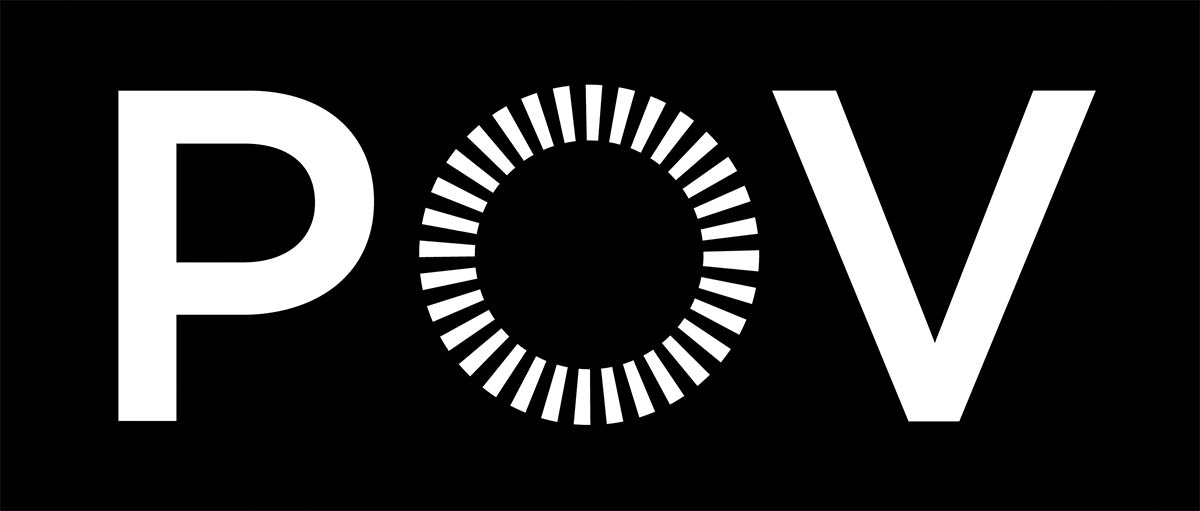 WUHAN WUHAN is picture perfect videography with cinematic panache and visual imagery portraying the lives of several Wuhan residents at the height of the coronavirus pandemic in February and March, 2020, in the city where the coronavirus began, Wuhan, the capital of Hubei Province in the People's Republic of China. Wuhan is the largest city in Hubei and the most populous city in Central China with a population of over 11 million.
Famous for its 3,500 years of cultural history, the city is the cradle of urban civilization in the Yangtze River basin and the oriental tea harbor of the ancient Tea Road. Wuhan is known for its bridge and high-speed rail engineering expertise and its resilience in urban planning and high-tech industries. The filmmakers focusing on selected residents serves as a microcosm about the people, their culture and their ways of life in this modern metropolitan Chinese city as it faced an ungodly and unthinkable menace that eventually went global.
PBS POV audiences that normally wouldn't know much if anything about Wuhan may yet recall the news headlining vitriol directed at the Chinese government about the way it appeared to be dealing with the pandemic back then. The vitriol and contempt in and outside the nation's borders vociferously pilloried about the outbreak. WUHAN WUHAN filmmakers cinematic goal was to do a story in a sustainable way telling The truth, the Whole Truth and Nothing But the Truth about the people who live and work in Wuhan.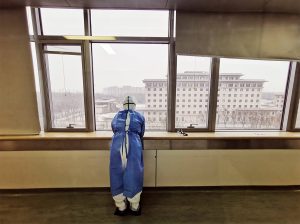 Exquisitely filmed cinéma-vérité style closeups, picture perfect portraits, vignettes and anecdotes augment the documenting of the real life of everyday affairs and people under near nightmarish conditions. [Picture right, a medical staffer taking a quick breather to gather her thoughts, gather her courage and return to her duties.]
Wide angle and panoramic scenes of landscapes (and sunrises and sunsets) also augment the visual mosaic showing the human condition and human experience in that Chinese city. Selected residents, consider them a cinematic sampling,  include a couple expecting a baby; quarantined families trying to negotiate confounding byzantine conditions of life in temporary shelters; and a psychologist dealing with family crises of her patients while facing her own family crisis.
The camera seems omniscient considering the scope and breath of what the fimmakers documented, capturing the essence of Wuhan, even on-screen characters engaging in get-out-of-my-face-with-that-camera moments or jesting and cutting loose with humor and wisecracking even as they or others are moaning in pain or gasping for oxygen, worrying that they might be experiencing their last breaths on earth.
WUHAN WUHAN provides a corridor of empathy and insight so that audiences can imagine feeling as if they are flies-on-the-wall and not only hearing and seeing but also as if being directly on hand for every moment of significance in the one-hour-thirty minutes of the PBS POV documentary.
[MOVIEWEB Exclusive: Wuhan Wuhan Director Yung Chang Talks Cutting Through 'Salacious Headlines' With New Documentary]
---
[How Director Yung Chang turned 300 hours of footage … into a gripping documentary: "We were driven by the passion to give a faceless city, known only as the epicenter of the virus, a heartbeat."
Information Audiences Need to Know About WUHAN WUHAN Characters
As the narrative moves forward over the course of 90 minutes, the drama builds.  Which main characters will be able to negotiate and survive the perils and challenges of a coronavirus that sent hundred of thousands to their graves?
Yin, 30, volunteer medical driver and factory worker: Furloughed from his tobacco factory job because of the lockdown, he volunteers to shuttle medical workers from the hospitals where they work to the quarantine hotels where they live. His wife, Xu, is 37 weeks pregnant, and Yin seeks advice from his passengers and fulfills his sense of duty during the pandemic. His wife, Xu, heckles him a lot.
Xu, 23, tour guide, wife of Yin
She's in full term pregnancy, expects to give birth to a "pandemic baby" during the lockdown. Su, nervous as any first-time-mother has experiences additional  stress created by the pandemic. She believes her husbands volunteering as a driver puts him at risk for others and causes him to neglect his role as a father-to-be. She heckles him throughout the film.
Dr. Xiannian Zheng, 35, ER Chief Physician
Works at Wuhan No. 5 Hospital,  the first designated hospital for critical COVID-19 cases, he faces insurmountable pressure as well as the high risk of catching the virus himself like his colleagues and peers. The hospital constantly lacks medical supplies and is always in a race against time.
Dr. Guiqing Zhang, 55, Psychologist
Arriving from Xinjiang province as a volunteer, Dr. Zhang provides professional support for thousands of patients in Fangcang Temporary Hospital. Dealing with the unexpected news of her father's terminal lung cancer, she nevertheless forges ahead.
Susu, 34, ICU Nurse
Works in the ICU with the most severe COVID-19 cases. Has untold patience and kindness for her patients, especially "Grumpy Grandpa" in Bed 15. She too is quarantined in a hotel for medical workers, unable to return home to see her two children and her husband.
Lai Lai, 9 years old, Hospitalized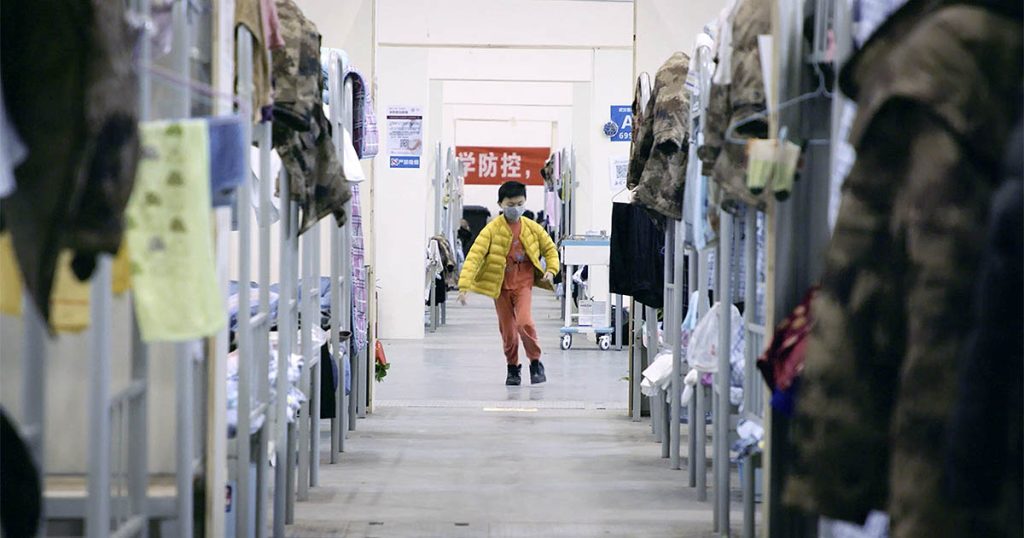 He tries to deal with life in the Fangcang Temporary Hospita. He uses his mom's smartphone and video games to escape. Seeing her trying to protect him, Lai Lai decides that if he recovers first, he will never leave his mom's side.
Xiuli Liu, 41, Lai Lai's Mother
After testing  positive for COVID-19, Mama Liu and her son, Lai Lai, are quarantined in the Fangcang Temporary Hospital for treatment and observation. To be released from the mandatory quarantine, they must test negative for COVID-19 three times. With the impending closure of the temporary hospital and not knowing the prospects of their recovery, Mama Liu fights the best way she can to protect her son and their livelihoods in a medical system bogged-down by bureaucracy.
Grandpa Shen, 56, Hospital Patient
Grandpa Shen is Bed Patient 15 – "Grumpy Grandpa" – painfully struggling to recover from COVID-19. "Grumpy Grandpa" is a common stereotype for Wuhan senior citizens who have a national reputation of being curmudgeonly and stubborn. That doesn't frustrate Susu, 34, ICU Nurse from giving him the care he needs if he survives.
Wuhan Wuhan Trailer. 2022 – 2 Minutes
Gregg W. Morris can be reached at gregghc@comcast.net, profgreggwmorris@gmail.com