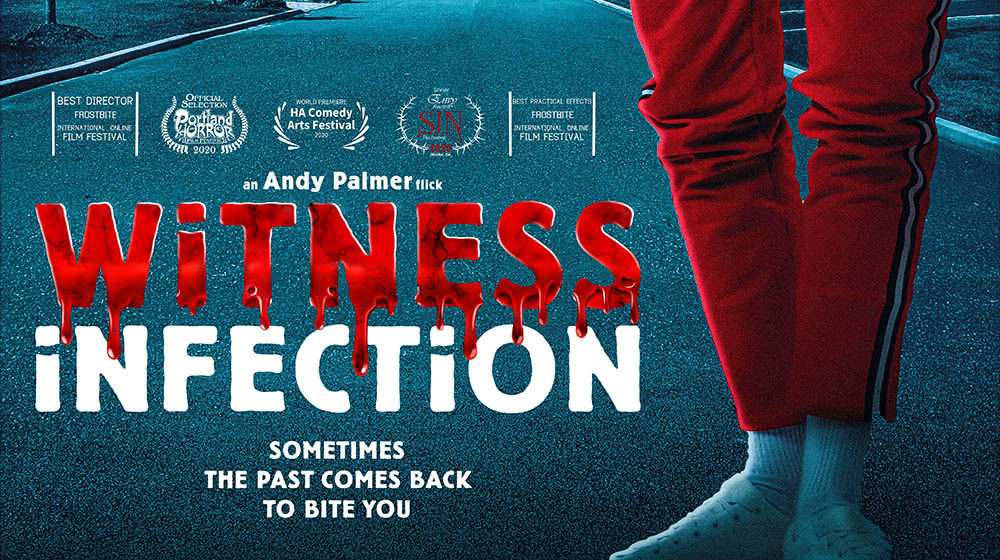 Director: Andy Palmer
Writers: Carlos Alazraqui, Jill-Michele Melean
Robert Belushi as Carlo, Jill-MIchele Melean as Gina, Vince Donvito as Vince, Erinn Hayes as Patricia, Bret Ernst as Dominic, Monique Coleman as Rose, Tara Strong as Filomena, Carlos Asazraqui as Mr. Serelli, Maurice Lamarche as Miola. 
Attention afficionados of the horror-comedy genre who savor the 5-star quality of WITNESS INFECTION and revel in its Horror Hound Film Festival Best Feature award and the Frostbite International Film Festival's Best Director award as well as its selection by a slew of other film fests like the Portland Horror Film Festival and the HA Comedy Arts Festival: This review is not for you.
It's for those masses out there hungry for entertainment during these COVID-19 Pandemic times. This reviewer doesn't want them to mistake WITNESS INFECTION as another in a long, long, long list of insipid, witlessly cheesy-beyond-belief zombie movies that would make the Father of Zombie Movies turn over and over in his grave. Yes, there are moments of gross-ness but done with a creative panache; gore, bloody entrails show up in adroitly delivered scenes of flesh-ripping cannibalism but not gratuitously yucky or stupid.
The filmmaking is top of the line. Superb cinematography. Superb acting. What looks like a goofy plot has testeronic verve. There are other surprising features making this a go-see-movie, such as, numerous characters played by accomplished veteran character actors. Lots of cool lines and some are standouts, like, "Always leave one in the head."
I imagine comedy-horror cinephilic connoisseurs swarming March 30, 2021, the day of WITNESS INFECTION's general release, making the film available to rent and be owned own via North American digital HD Internet, cable, and satellite platforms and DVD on March 30, 2021 through Freestyle Digital Media.
WITNESS INFECTION tells the story of two rival mob families in a Witness Protection Program transferred to the same small California town, something akin to federally bivouacking the Hatfields & the McCoys on adjacent farms on a country road. They're in the program because they've are first rate quislings dropping dimes and betraying colleagues and accomplices with smirking glee and aplomb.
Scion Carlo Serrelli's father has overly protected, him, his oldest, from the blood and guts of the family mob business and by giving him a job at the family-owned dog groomers salon – not necessarily because of fatherly love but because he thinks his son doesn't have balls. Yet, I had a fleeting thought of Michael Corleone played by Al Pacino in the Godfather. Scion Dominic Serrelli, the youngest, is the brute with bloody hands and balls, making me think of Sonny Corleone played by James Caan.
Dad has set son Carlo up for an arranged marriage with the daughter of the rival Miola family boss. That, of course, is to broker a peace. Carlo's friends, Gina and Vince, try to help him get out of this predicament of marrying someone he doesn't luv, which is just as bad as what's happening to the rest of the California town.
Because human remains and "the pasquinade teeth of Vito Morelli" were somehow grounded into Tablioni's famous meat sausage that everyone craves, residents in the California town, if not the state or the rest of the country, are at risk of becoming human shish kabobs and slop-sloppy Joes – and zombies.
Ah, a parody, I thought as the minutes  into the film. Ah, a parody of a parody, I subsequently thought. No, a parody of a parody of a parody – ad infinitum?
There are great lines. "Hey pop," goes Carlo with a gun in his hand and aimed at the noggin oh his father, "remember when I was little and mom would let me sleep with the light on and you'd come in and turn it off. Used to think you were such a dick. Always leave one in the head."
And, a little over 30 minutes into this 1 hour, 21-minute, 21-second whack-o of a whack-o parody of parodies, as the Zombies are growling and the film score is rockin', someone cleverly ascertains, "Fucking millennials, they can't handle their sausage and booze."
Gregg W. Morris can be reached at gregghc@comcast.net or profgreggwmorris@gmail.com