Director-Writer Vlad Yudin's documents the lives of several mixed martial arts stars, such as Jon Jones, former UFC light-heavyweight champion; Ronda Rousey, first ever UFC women's bantamweight champion; and Rashad "Suga" Evans, former UFC light-heavyweight champion. Also included are Ronda Rousey and Jon "Bones" Jones.
The film, narrated by Kevin Costner, also features MMA brawlers Chuck Liddell, Tito Ortiz, Georges St-Pierre, Kenny Florian, Urijah Faber, Ken Shamrock and Bas Rutten.
Interviews with psychologists, neurologists, sociologists and government officials analyze the grim prevalence of brain trauma and the implications of MMA's increased popularity. As Senior Writer James Kelly writes, "… these injuries become a source of pride. They become the things that make us fighters who we are. They give us a certain way of walking, a way of speaking, a way of making eye contact. It's not a matter of being approved of in society's eyes, it's a matter of identity."

By Senior Writer James Kelly
I am an amateur fighter in his senior year at Hunter College and I might go pro in the future. I haven't decided yet. My record is 2-0. I won the gold medal in the 154-pounds competition in the 2016 World Kickboxing Association National Championship. I regularly train with professional boxers, MMA fighters, and kick boxers. But I also work out with dozens of amateur fighters like myself.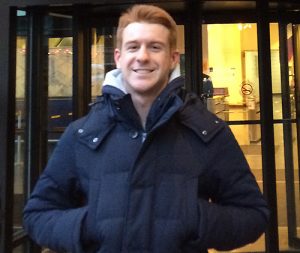 Since joining Church Street Boxing in 2013,I learned a lot. To endure challenges. To face fear. That I can push myself to excel to levels I never thought possible. It kept me from drinking and smoking. The fighting is violent by nature, but fighters know to keep it inside the ring. It is never reasonable to fight outside the ring.
The entertainment media focus on the big celebrities who make bad decisions and mistakes, but there are thousands of fighters who lead decent, respectable lives.
THE HURT BUSINESS reveals the thriving MMA industry. It's does not promote the sport. If anything, the tragic stories featured in the film about fighters' lives, injuries, and the betrayals can be discouraging for anybody who doesn't know much about the sport.
The fighting industry is tough. The promoters who make the least sacrifices make several times the profit of the fighters who sacrifice their all for the sport. A vast majority of those fighters are lucky to have their names remembered after they retire. Those who fight for "glory, pride, or entertainment," as the film puts it, usually lack fortitude and burn out quickly. However, many fighters, including the ones I know personally, don't do it for those reasons. They also aren't foolish enough to expect much money from it.
To them, pride, glory, entertainment, and money are all just baggage that come with the broader sense of purpose that fighting brings to our lives.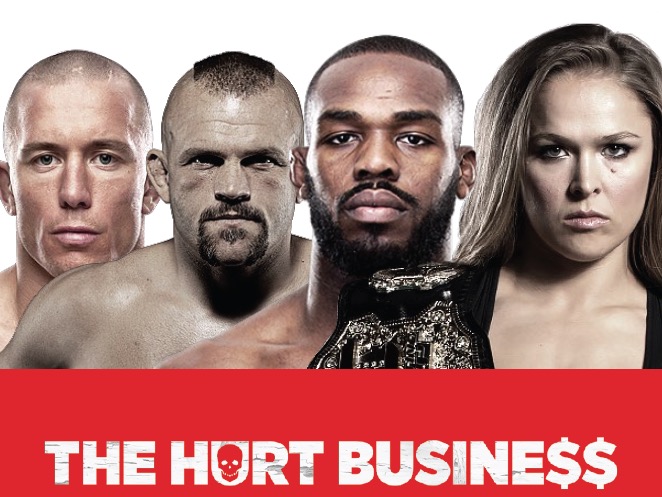 In the film, many fighters, including Ronda Rousey, make the point that fighting is part of human nature. Georges St-Pierre, said that, despite the bruising conditions fighters endure, they choose that life wittingly because it helps them find their place in the world among other fighters.
That being said, all the ugly facts the film states about the fighting industry are not unknown to the fighters. Nobody goes into that world without knowing the consequences. Those consequences, however, are that part of the world that gives them a purpose and fulfillment.
Somebody  unfamiliar with the industry and the fighting world might watch this film and think that its message is to speak out against fighting. Not so. THE HURT BUSINESS just states facts and is a forum for opinions of various people involved. An outsider might be distracted by the violent images and the threat of brain damage to understand why people willingly live in the fighting world and put their lives at such great risk. But nobody is more familiar with these consequences than the fighters. Fighting has, after all, been around since the beginning of recorded western history.
There are two types of reactions this film may evoke in an audience. One reaction would be horror at the fighting world. The other, the one that I feel and the fighters whom I know feel, is that despite all the warnings and the consequences, fighting is something we're naturally inclined to do.
My nose has been busted, my left kneecap has a dent in it; I've gotten several black eyes, bruises, bloody noses and muscle pains. The professional fighters I know have suffered various broken noses, fractured eye sockets, crushed orbital bones, fractured kneecaps and shins and dislocated joints. Everybody gets hit in the head regularly and we all develop a certain way of thinking as a result of this. One of the fighters interviewed in the film said, "It's all part of being a man." This is an oversimplified way to say that life can beat you down, but you can't just give up.
My point is that these injuries become a source of pride. They become the things that make us fighters who we are. They give us a certain way of walking, a way of speaking, a way of making eye contact. It's not a matter of being approved of in society's eyes, it's a matter of identity.
THE HURT BUSINESS provides a great history of the sport and includes a variety of perspectives. It was thrilling to see the interviews with pioneers of the industry. For me,a fighter, the film did a superb job of realistically portraying the hardships fighters endure for their love of the fight. The fighting world is not a pretty one and this film does a good job distinguishing between those who truly love the sport and those who only love the image.
Opened nationwide September 29 in 400 theaters and is now playing in New York City.
Senior Writer James Kelly can be reached at James.Kelly41@myhunter.cuny.edu