By Senior Editor Tatiana Villamil
AUDRIE & DAISY, directed by the husband and wife team of  Bonni Cohen and Jon Shenk, tells the separate stories of two teenage rape victims and the brutal aftermath of their sexual assaults.
This 95-minute accounting of their ordeal explores bullying in school, social media's impact in such cases, the injustice protecting the reputations of the sexual assailants after the attacks and the life after rape for both the victims and the rapists.
"When I saw her eyes, I knew she was gone," said Audrie Pott's father in a scene with him describing how he first saw his daughter after she killed herself eight days after she was attacked in 2012. She was a 16-year-old student at Saratoga High School in Saratoga, California. She had been assaulted by three teenage males at a party. Pictures of the vicious attack were distributed in social media platforms and through texts the next days. The photos showed her body graffitied with a Sharpie. The juveniles arrested and convicted served sentences shorter than an autumn season.
In the second case, the grandson of a former member of the the Missouri House of Representatives was accused of raping his friend's sister, Daisy Coleman, 14 at the time. The charges for sexual assault were dropped two months later.
Guy Fawkes masks, with daisy flowers tucked behind their ears, were worn by those who came out in support of Daisy a year after her attack, and the case was revisited by an investigator. The film shows how Daisy and her family dealt with the loss of a family member.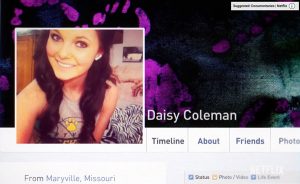 The Netflix documentary does a good job depicting how it became important to shield the boys from the consequences of their actions more than finding justice for the girls whom they rapped. There are interviews with town sheriffs and mayors. In this electoral year, with demagogue and nativist Donald Trump spewing racist comments that Mexicans are rapists, "whites accounted for 71 percent of all sexual assaults documented, while Latinos accounted for 9 percent," according to Politico Magazine.
Daisy Coleman said she agreed to participate in the  film to help the lives of rape victims and as an opportunity to tell her story the way she wanted it to be told. "I decided that I could take the ability to affect somebody through a computer screen and turn that into compassion instead," said Coleman at a press conference after the screening of the documentary in New York City. "I want to reach out to other people who have been struggling."
This film screened September 29 and can now be seen at Netflix.
Tatiana Villamil can be reached at tatianavr92@gmail.com.