Participants for the NYFF56 Artist Academy, an immersive four-day program for filmmakers early in their careers, and the NYFF56 Critics Academy, a workshop for aspiring film writers and a venture of Film Comment magazine.
This year marks the eighth edition of the Artist Academy, which offers an experience for up-and-coming filmmakers from a variety of backgrounds to harness creativity and encourage collaboration. Tapping into both the Lincoln Center and New York film communities, the private four-day program is comprised of talks, workshops, and screenings. The complete list of 2018 participants can be found below.
This year's Artist Academy mentors include NYFF56 filmmakers Paul Dano & Zoe Kazan (Wildlife), Tamara Jenkins (Private Life), Alex Ross Perry (Her Smell), and Alexis Bloom (Divide & Conquer: The Story of Roger Ailes) as well as Terence Nance (Random Acts of Flyness), Debra Granik (Leave No Trace), Stephen Maing (Crime and Punishment), and others. Past mentors have included Julie Taymor, Sara Driver, Benny & Josh Safdie, Christine Vachon, James Schamus, Paul Schrader, Laura Poitras, Ed Lachman, Nico Muhly, Joe Brewster, Michele Stephenson, Ira Deutchman, Sir Richard Eyre, David Tedeschi, and others. The 2018 Artist Academy is sponsored by Dolby.
The Critics Academy nurtures promising writers and provides a valuable platform to launch their careers. It was started in 2012, as a joint venture with IndieWire at the Locarno Film Festival and subsequently produced for the New York Film Festival that year. Past participants have gone on to write for a wide range of print and online publications, including The Atlantic, Brooklyn Magazine, Film Comment, The Guardian, Hyperallergic, IndieWire, L.A. Weekly, The Los Angeles Times, National Review, New Republic, The New York Review of Books, Paper magazine, The Paris Review, Remezcla, Reverse Shot, Slant, Vice, The Village Voice, and Vulture, and some have become involved in film programming and publicity.
This year's 10 selected critics will attend NYFF press screenings and cover the festival in a variety of ways, from quick-turnaround film reviews to more in-depth articles and interviews for potential publication in IndieWire and beyond. Participants will partake in candid roundtable discussions with working critics and other members of the industry to put their work in context, and have the opportunity to workshop their writing in one-on-one sessions. The Academy's 2018 guest speakers include journalists, critics, programmers, and editors, such as Melissa Anderson, Ina Archer, Teo Bugbee, Andrew Chan, Ashley Clark, K. Austin Collins, Eric Hynes, Eric Kohn, Dennis Lim, Aliza Ma, Sheila O'Malley, Nick Pinkerton, Alison Willmore, and others.
The Film Society of Lincoln Center is committed to fostering the next generation of filmmakers, critics, and industry professionals working in the world of cinema. The Artist and Critics Academies continue to emphasize the importance of diversity in the world of film, supporting and nurturing people of color and women, though their purviews remain expansive and all-inclusive. With academies during the New York Film Festival and throughout the year, FSLC builds new audiences and continues to advance New York's vibrant film culture. For more information on these initiatives, visit filmlinc.org/filmmaker-initiatives. 
Academy Participants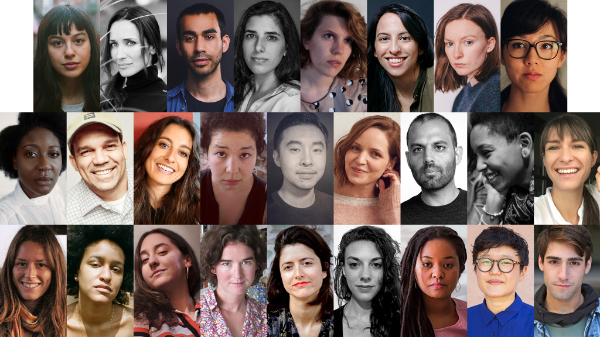 Row 1 (L to R): Alexa Lim Haas, Ana Asensio, Antoine Bourges, Barbara Cigarroa, Caitlin Craggs, Christina Raia, Deragh Campbell, Elizabeth Lo. Row 2 (L to R): Ellie Foumbi, Flavio Alves, Jenna Laurenzo, Jessica Kingdon, Johnson Cheng, Jordana Spiro, Martin DiCicco, Martine Granby, Meredith Lackey. Row 3 (L to R): Olivia Zimmerman, Rebeca Huntt, Sarah Friedland, Sarah Salovaara, Shevaun Mizrahi, Sierra Pettengil, Stefani Saintonge, Natalie Tsui, Zachary Luke Kislevitz.
Flavio Alves
A Brazilian film writer, director, and producer. He was granted political asylum in the United States in 1998 with the help of the Immigrants and Refugee Rights Clinic at the City University of New York School of Law. Shortly thereafter, he attended Columbia University, where he earned an undergraduate degree in Political Science. After graduating, Alves worked as an assistant to then-New York Senator Hillary Rodham Clinton (D-NY) and to then-New York mayoral candidate Anthony Weiner (D-NY). In 2007, Flavio returned to school to study film production at New York University, where he received the Technisphere Award for Outstanding Achievement.  Since then, he has produced over 20 films and directed five, including The Secret Friend (2010) and Tom in America (2014). Flavio is currently in postproduction with his debut feature film, The Garden Left Behind, which is an IFP Narrative Lab (2017) selected project. His film has recently received the support from GLAAD and is also the recipient of grants from numerous organizations, including the New York State Council on the Arts (NYSCA) and Jerome Foundation. In 2016, Alves pioneered the use of eBay as a crowd-funding platform (www.ebaymyfilm.com) by selling thousands of donated items online to help to finance his film.
Ana Asensio
An international actress, writer, and director from Spain, currently living in Brooklyn, New York. Her first feature film as a writer-director, Most Beautiful Island, won the Grand Jury Prize at SXSW 2017, played in over 50 film festivals around the world and was nominated for the John Cassavetes Award at the Film Independent Spirit Awards 2018.
Antoine Bourges
A Toronto-based filmmaker originating from Paris, France. His shorts Woman Waiting (2010) and William in White Shirt (2015), along with his mid-length film East Hastings Pharmacy (2012), have screened in festivals across North America and Europe, including the Berlinale, Viennale, and TIFF. Fail to Appear (2017), presented at the Art of Real festival, is his first feature film.
Deragh Campbell
A Toronto-based actor and writer. Her performance credits include lead roles in I Used to Be Darker (2013), Stinking Heaven (2016), Never Eat Alone (2016), Self-Criticism of a Bourgeois Dog (2017), and Fail to Appear (2018). She has received writing and producing credits on a number of her acting projects, and was awarded a MacDowell Colony Fellowship for screenwriting. She is currently in postproduction on her first co-written and directed feature with Sofia Bohdanowicz and acts in the new feature by Kazik Radwanski.
Barbara Cigarroa
A Mexican-American filmmaker from South Texas. She resides in New York City and holds an MFA in Screenwriting from Columbia University and a BA in English from Yale University. A storyteller with a passion for social justice activism, and Hispanic narratives, Barbara has produced work that has been recognized worldwide on the festival circuit, and through individual grants and awards. Barbara's screenplay "The Other Side" was invited to participate in IFP's 2018 No Borders Co-Production Market, and her 2018 Short Film Dios Nunca Muere is an official selection to the 56th annual NYFF. Her 2015 short film Marta Rosa was an official selection at dozens of international film festivals, including Austin, New Orleans, and Palm Springs, where it won Panavision's Best North American Short under 15 minutes.
Johnson Cheng
An award-winning Chinese American writer-director hailing from the San Gabriel Valley of L.A. County. After receiving his B.A. in International Relations, he joined Columbia University's M.F.A. Film Directing/Screenwriting program. His films have screened at over 100 international film festivals, including Tribeca, TIFF Kids, Reykjavík (Golden Egg Selection), Nashville, Short Shorts Tokyo, and Palm Springs (Best Student Film). Johnson has also been selected for the Telluride Film Festival Student Symposium, Reykjavík Transatlantic Talent Lab, and Armed With a Camera Fellowship. He is a recipient of the 2018 Princess Grace Award (Cary Grant Film Award). Johnson is a member of the Motion Picture Editors Guild.
Caitlin Craggs
An animator, eater, multidisciplinary artiste, and sometime-educator living in Brooklyn. She has directed "bona fide weird" animation for music videos, documentary film and TV. You may have seen some of it on Vimeo, the New York Times or Atlantic online. Her films have screened in festivals 'round the globe as well as at LACMA, Lincoln Center, BAM, and RedCat. She recently completed an MFA in Experimental Animation at the California Institute, where she dabbled in curation, writing, experimental opera, and debt jubilees. She is a recipient of the Princess Grace Award and the legendary stop-motion director Henry Selick has called her work "wrong and wonderful."
Martin DiCicco
HIs first feature, All That Passes by Through a Window That Doesn't Open, made its NYC premiere at Film Society of Lincoln Center's Art of the Real festival in 2017.  The film, a journey by rail through the dreams and regrets of railway workers in Azerbaijan and Armenia, won the Regard Neuf award at Visions du Reel, Camden IFF's Cinematic Vision Award and Taiwan IDF's Artistic Merit Prize. As a cinematographer he has shot shorts for Field of Vision, including Cecilia Aldarondo's Picket Line and Brett Story's CamperForce.  He was the director and cinematographer of the short Here There Is No Earth, which will premiere at the 56th New York Film Festival.
Ellie Foumbi
An actor-writer-director born in Cameroon. She received her MFA from Columbia University's School of the Arts in directing. Her award-winning short film, Zenith, was a Student Academy Awards Semifinalist and an African Movie Academy Award nominee. Her films have screened at Sidewalk, BOGO Shorts, Champs-Élysées, Zanzibar International Film Festival, among others. She's the recipient of the Jesse Thompkins III Award in Screenwriting and the IFP Marcie Bloom Fellowship. She is also a Film Independent Screenwriting Lab Fellow. She's planning her debut feature film, to be shot in the spring of 2019.
Sarah Friedland
A filmmaker and choreographer working at the intersection of moving images and moving bodies. Her work has screened and been presented in numerous festivals and film spaces such as New Directors/New Films, Cucalorus Festival, New Orleans Film Festival, and Anthology Film Archives, in art spaces such as MoMA, Nasher Museum, Black Mountain College Museum, and Manifattura delle Arti (Bologna), and in dance spaces including American Dance Festival, Dixon Place, and Triskelion Arts, among others. Her work has been supported by grants and residencies such as the Dance Films Association, Art Factory International, Rhode Island State Council of the Arts/NEA, and Berlinale Talents. Sarah is a graduate of Brown University's department of Modern Culture and Media, and she started her career assisting such filmmakers as Steve McQueen, Mike S. Ryan, Kelly Reichardt, and the production team behind HBO's Girls. She is currently completing postproduction on Crowds, a three-channel installation investigating the choreography of crowd typologies, and developing her first feature, Familiar Touch, a coming-of (old)-age film following an octogenarian woman's adjustment to nursing home life.  www.motionandpictures.com
Martine Granby
A documentarian, producer, and video journalist. As a producer with BRIC TV, she has produced shorts for their social justice Emmy-winning #BHeard documentary series and produced the accompanying #BHeard Town Halls. As a fellow with Kartemquin Film's Diverse Voices in Docs program, she started production on her current film The Mask That Grins And Lies, a meditative feature-length documentary addressing the invisibility of black women's mental illness and the stigma that silences a community. She is a graduate of Northwestern's Medill School of Journalism.
Rebeca Huntt
An Afro-Latina independent filmmaker, multimedia artist, and native New Yorker. Her project, BEBA—a feature-length experimental documentary that she co-directed and wrote—is currently in postproduction. BEBA raised over $40,000 on Kickstarter and was covered by Elle Magazine, The Fader, and Remezcla. In July 2017, Huntt and her film team were selected for Kickstarter's Creators-in-Residence program. Most recently, BEBA received the 2018 NYSCA grant.  Rebeca is currently a UnionDocs Collaborative Fellow, through which she is directing a short documentary on a Bronx-based Dominican DJ collective, and editing a short documentary on Yemeni Deli owners in New York City.  In addition, she worked in public relations and event planning for over three years, producing arts benefits, activist-based panels, and parties with creatives such as Venus X and Tschabalala Self.  She received her B.A. from Bard College in 2012.
JessicaKingdon
A Chinese-American director/producer named one of 25 New Faces of Independent Film by Filmmaker Magazine in 2017. Her award-winning short Commodity City, shot in Yiwu, China, is an observational documentary about the world's largest wholesale mall. It was a Vimeo Staff Pick, was shortlisted for a Cinema Eye Honor, and has played at over 50 film festivals including Rotterdam, True/False, and Sheffield. Her upcoming feature documentary Untitled PRC Project participated in the 2017 Spotlight on Documentary IFP Film Week and is a SFFilm Doc Fund recipient. Residencies include the UnionDocs Lab, Editing Residency, and the Points North Institute Shortform Editing Residency. Her producer credits include The Waterslide, which premiered at True/False in 2018, and Old Stone, which premiered at the Berlinale 2016. She is a member of the Brooklyn Filmmakers Collective.
Zachary Luke Kislevitz
Born and raised in the Garden State. He attended NYU Tisch School of the Arts, where he studied drama, and works worldwide as an independent producer on motion picture, commercial and music video projects. He is currently in production on the RT Features and Sikelia Productions joint venture Port Authority, directed by Danielle Lessovitz, and in post on Low Spark Films'The Beach House directed by Jeffrey A. Brown. His other credits include Stay Gold Features' The Strange Ones (2017) directed by Lauren Wolkstein and Christopher Radcliff, which received Special Jury Recognition for Best Breakthrough Performance at SXSW that year.
Meredith Lackey
An artist and filmmaker based in Los Angeles. Her films have screened internationally at festivals, including NYFF52, Ann Arbor, Edinburgh, and FIDMarseille. Her most recent short, Cablestreet, is a sci-fi hybrid doc that led her to far-out locations including an industrial cable laying ship in the Gulf of Thailand. Cablestreet is produced by Field of Vision. She is currently developing her first feature documentary, After Land, situated at the intersection of technology, politics, and biological life. Meredith earned a B.A.in Philosophy and Media Production from Hampshire College, and an M.F.A. in Moving Image from the University of Illinois Chicago. She is a 2014 Princess Grace Foundation-USA Honorarium winner, 2014 recipient of the UFVA Carole Fielding grant, and 2016 Sacatar Foundation fellow.
Jenna Laurenzo
The director, writer, producer, and star of Lez Bomb, which made its world premiere this past May at Geena Davis' Bentonville Film Festival, winning the Best Narrative Film Jury Award. Lez Bomb was executive produced by Bobby Farrelly (There's Something About Mary) and stars Oscar-winner Cloris Leachman, Oscar-nominee Bruce Dern, Kevin Pollak, Deirdre O'Connell, Steve Guttenberg, Elaine Hendrix, Caitlin Mehner, and Brandon Micheal Hall. Lez Bomb will have a theatrical release this November, and was Laurenzo's follow-up to her short film Girl Night Stand (directed, written by, and starring Laurenzo), an Internet hit that garnered over three million streams and drove online cultural conversation for months. Earlier this year, Jenna was selected for Shoot Online's 2018 New Directors Showcase. Laurenzo will next be seen in Peter Farrelly's Green Book.
Alexa Lim Haas
An artist and filmmaker from New York City. She was selected by Filmmaker Magazine as one of the "25 New Faces of Independent Film" in 2017. Her animated shorts, Glove co-directed with Bernardo Britto, and her first solo short, Agua Viva, both premiered at the Sundance Film Festival and were awarded Grand Jury Prizes at SXSW in 2016 and 2018. In addition to screening at film festivals worldwide, she has exhibited her work at the Museum of Modern Art in New York, Norton Museum of Art in Florida, and in collaboration with Terence Nance on HBO. She received her BFA from NYU Tisch School of the Arts.
Elizabeth Lo
An award-winning documentary filmmaker from Hong Kong. She was named one of the "25 New Faces of Independent Film" by Filmmaker Magazine in 2015 and was featured in the 2015 New Directors Showcase at Cannes Lion. Her work has been broadcast and showcased around the world, including at the Sundance Film Festival, Tribeca Film Festival, New York Times Op Docs, True/False, Hot Docs, and BAMcinemaFest.
Shevaun Mizrahi
Recently awarded the Guggenheim Fellowship 2018. She worked as an assistant to cinematographer Ed Lachman for many years and was also a fellow with Marcie Bloom via Sony Pictures Classics. Her first documentary feature, Distant Constellation, received the Jury Special Mention Award at Locarno 2017. Her films have been shown at the Viennale (FIPRESCI Critics Prize), BFI London Film Festival, IDFA, Jeonju International Film Festival (Best Picture Prize), Seville Film Festival (Best Film Award), Göteborg Film Festival, DokuFest International Film Festival (Best Film Award), BAMcinemaFest, and True/False Film Festival, among others. Before shifting to film, Shevaun was a Presidential Scholar in the Arts for photography. Her images have been exhibited at the Smithsonian of American Art, along with being in their permanent collection, and the Corcoran Gallery of Art. She is currently developing her next feature film.
Sierra Pettengill
Her most recent feature documentary, The Reagan Show, played at the Tribeca Film Festival and the Locarno Film Festival in 2017. Her all-archival short, Graven Image, produced with Field of Vision, premiered at True/False Film Festival and will air on POV on PBS in the fall of 2018. She produced the Academy Award–nominated documentary Cutie and the Boxer, which also won a News & Doc Emmy Award for Best Documentary. She was the archivist on Jim Jarmusch's Gimme Danger, Mike Mills's 20th Century Women, and Morgan Neville's Won't You Be My Neighbor?, among many others. Her writing on film has appeared in frieze magazine and Film Comment, and she is currently a Sundance Institute's 2017/2018 Art of Nonfiction Fellow.
Christina Raia
A New York City–based filmmaker. She was named one of the 10 Filmmakers to Watch in 2018 by Independent Magazine. Her first feature, Summit, won Best Director at the 2015 Flickers: Rhode Island International Film Festival's horror, fantasy & sci-fi division. She co-created, directed, and produced the comedic web series Kelsey, which premiered on blip.tv in September 2013 and was a Critic's Pick as one of the Best Comedy Web Series of 2013 by IndieWire. She is currently on the festival circuit with her second (completely crowd-funded) feature, About a Donkey. And she's beginning to pitch what she hopes to be her third feature, Silent Night, a horror-comedy that made the Quarter Finals in Slamdance's 2016 Screenwriting Competition. In addition to IndieWire, her work has been covered by various press outlets, such as BuzzFeed and AfterEllen. She also turned her desire to foster collaboration and engagement in the local film community into IndieWorks, a monthly film screening series showcasing and supporting the work of other independent filmmakers in New York, currently in its sixth year.
Stefani Saintonge
This Haitian-American filmmaker and educator won the ESSENCE Black Women in Hollywood Discovery Award for her short film Seventh Grade in 2014. Her documentary La Tierra de los Adioses won Best Latin American Short Documentary at the Festival Internacional de Cine en el Desierto. Her work, which focuses on women, youth, and immigration, has screened at several festivals and institutions internationally including Hammer Museum, Brooklyn Museum, the New Orleans Film Festival, and the Austin Film Festival. A member of New Negress Film Society, she is a recipient of the Jerome Foundation Film and Video Grant, BRIO Arts Award and served as an artist in residence with Haiti Cultural Exchange.
Sarah Salovaara
A filmmaker from New York City. Her work is primarily concerned with the retooling of gender roles and genre tropes. In 2017, her series Let Me Die a Nun, starring Ana Fabrega and Hari Nef, was nominated for a Gotham Independent Film Award. Upcoming projects include a BRIC TV show entitled The Future Is Then; the short Lucky Dog; and a currently untitled feature about a late-in-life lesbian who travels to Cuba for sex tourism.
Jordana Spiro
A director, writer, and actress whose directorial debut feature Night Comes On, which she also co-wrote and executive produced, premiered at the 2018 Sundance Film Festival, winning the Innovator Award. At the Deauville Film Festival in France, she took home the Jury Award. The film was theatrically released by Samuel Goldwyn Films, scoring 100% on Rotten Tomatoes, and will have a theatrical release in France in 2019. She developed the film at the Sundance Institute's Directors, Screenwriters, and Composers Labs, and through the Cinereach development grant and Adrienne Shelley Foundation Fellowship. Her short Skin premiered at Sundance and won the Honorable Mention Award at SXSW, showed at Telluride, Palm Springs, and AFI among others. Jordana earned her MFA in Film from Columbia University (2015). As an actress she is currently in her 2nd season of Ozark for Netflix and has starred in numerous films and television series. She studied drama at the Circle in the Square Theatre School in New York, the Royal Academy of Dramatic Arts in London and was selected to join the Berlinale Talent Campus in Berlin.
Natalie Tsui
An artist and filmmaker living and working in Brooklyn. Natalie received a B.A. in Film Studies and English from the University of California, Berkeley, in 2008 and an M.F.A. in Cinema from San Francisco State University in 2014. Her work has screened at the Contemporary Jewish Museum, Frameline, Museu de Arts Moderna of Rio de Janiero, Shapeshifters Cinema, Southern Exposure, and the San Francisco Museum of Modern Art. She is a 2018 Flaherty Film Fellow and the recipient of the Fotokem Graduate Student Grant, the Princess Grace Film Honorarium, and the John Gutmann Award, among others.
Olivia Zimmerman
A producer at Point Road Productions where she develops, writes and shoots feature documentaries. Most recently, she produced Fox Sports' The Maestro: The Rollie Massimino Story (2018) on the final season of the legendary basketball coach. Olivia produced CBS/Turner Network's 2016 Final Four headline feature documentary, With a Kiss, which tells the story of Emmy-winning color-commentator, Bill Raftery. Prior to Point Road, Olivia was at an independent film company, 4th Row Films, where she was an associate producer on Kate Plays Christine (2016 Sundance Film Festival) and an assistant to producers on History Channel and A&E Films' Drunk Stoned Brilliant Dead: The Story of the National Lampoon (2016 Sundance Film Festival). She also filmed and produced branded entertainment for commercial corporations and nonprofits. Olivia developed and produced short films titled the 1,000 Stories Campaign, for Alaska's leading renewable energy organization, Reap. Olivia began in film and television by working with the television company Superfine Films, where she worked with the development team to produce Lifetime TV's reality hit show ChasingNashville.  Olivia continues to film and produce short and feature length documentaries with a strong focus on environmental and human-interest narratives. 
Critics Academy Participants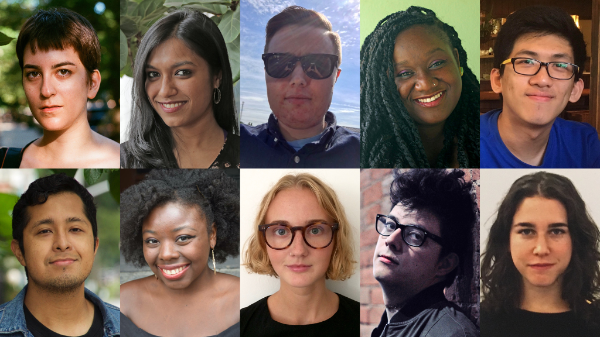 Row 1 (L to R): Adina Glickstein, Bedatri Datta Choudhury, Caden Mark Gardner, Cate Young, Joshua Shue. Row 2 (L to R): Juan C. Diaz, Keyanna Wigglesworth, Naomi Keenan O'Shea, Spencer Williams, Susannah Gruder.
Bedatri Datta Choudhury
Studied literature and cinema in New Delhi, came to New York to attend graduate school in Cinema Studies at Tisch School of the Arts, and has been living here ever since. She has worked extensively in the documentary film world, particularly in the areas of commissioning, outreach, and film criticism. She loves to write on film and culture, especially from a prism of feminism and post-colonialism. Her writings have been published in Huffington Post, Hyperallergic, Buzzfeed, and Bitch Magazine, among others. Her most memorable past projects include organizing India's largest documentary film festival and working on a documentary film seminar. Having worked for publishing houses, an advertising agency, a newspaper, documentary film outfits, and a theater company, she doesn't quite see the boundaries between the different means of cultural production and swears by the immense powers of intersectionality.
Juan C. Diaz
Born and raised in Atlantic City, NJ, and now calls Brooklyn home. He is an aspiring writer interested in the auteurs of the Left Bank, Latin American cinema, and the relationship between film and literature, to name a few interests. He is a graduate of Yale University with a Bachelor of Arts in the History of Science, Medicine, and Public Health, and he wrote his senior essay on Latinx AIDS activism in New York City. He currently works as a legal assistant at a nonprofit.
Caden Mark Gardner
A freelance film critic and civil servant residing in Schenectady, New York. With fellow film critic Willow Maclay, he is coauthoring the forthcoming book Corpses, Fools, and Monsters: An Examination of Transgender Cinema, about the histories, portrayals, and failings of representing trans bodies and gender dysphoria in film. His writings can be found atdaffyduckinhollywood.wordpress.com and you can find him at @cadenmgardner on Twitter.
Adina Glickstein
A junior at Barnard College, where she's pursuing a B.A. in Film Studies with a minor in anthropology. She is the editor-in-chief of the Journal of Art Criticism, founded at Barnard in 2015 as the first peer-reviewed print outlet for undergraduate art criticism. She also edits Double Exposure, Columbia University's film journal. Her writing has appeared in Hyperallergic, Another Gaze Film Journal, and The Guardian, among other outlets. In her personal creative practice, Adina is an experimental filmmaker and photographer, primarily working with analog media and alternative processing.
Susannah Gruder
A writer born and raised in Brooklyn. Her film criticism has been published in Bright Wall/Dark Room, and she runs the newsletter Mood Elevator, which combines film reviews and personal writing to examine representations of gender and power on-screen. She has worked in media and the performing arts, most recently covering politics and culture as a video producer at HuffPost. She graduated from Kenyon College with a degree in English and studied film at the Sorbonne in Paris. You can follow her at @suegruder.
Naomi Keenan O'Shea
A B.A. in Film Studies and English Literature from Trinity College Dublin in 2017. She has written for Trinity Film Review, Film Ireland, The Oxford Review of Books, and is a current contributor to MUBI Notebook. Naomi has focused much of her writing on the Iranian filmmaker Jafar Panahi and has a particular interest in Middle Eastern cinema and film culture. She is interested in the ethics and forms of documentary filmmaking and contemporary visual practices.
Joshua Shue
A rising senior at Columbia University who has since coming to New York spent an inordinate amount of time at the movies, perhaps to the detriment of his grades. He, however, believes that he has learned much of value from both institutions, though his parents may not so readily concur. He is from Atlanta, Georgia.
Keyanna Wigglesworth
Born in Brooklyn and raised in South Jersey, Keyanna is fascinated by biopics, documentaries, coming-of-age stories, and crime dramas. She loves film because it helps her question and develop her own views of race, class, and other forms of identity. After graduating from Harvard with a Bachelor's degree in Romance Languages & Literatures, Keyanna worked as an investment banking analyst. However, she soon realized that her passion did not lie on Wall Street, but rather in watching films and using them as touchpoints to connect with others as well as unexplored parts of herself. With hopes of gaining more experience in and knowledge of the film industry, she will begin work as a talent agent trainee at United Talent Agency in late October. You can read her writing @snatchyawigg.
Spencer Williams
Originally from Chula Vista, California, she is currently a Poetry MFA candidate at Rutgers Newark in New Jersey. Her poetry is forthcoming from or featured in journals such as [PANK], DREGINALD, Cosmonauts Avenue, Hobart, ANMLY, Alien Mouth, and Potluck. Her first documentary short, The Only Out: A Short Reflection on an Untidy Closet, premiered at the 2017 Milwaukee LGBTQ Film Festival. She can be found on twitter @burritotheif.
Cate Young
A freelance writer and pop culture critic in Trinidad and Tobago and the creator of BattyMamzelle, a feminist pop culture blog where she writes about film, television, music, and critical commentary on media representation. Her work deals particularly with the intersection of race, gender and sexuality, and introducing an intersectional analysis to discussions of pop culture. Her writing has appeared in Cosmopolitan, NYLON, Bitch Magazine, and Vulture, and her primary critical concerns are media representation, its wider influence, and its power to change social attitudes. Cate has a B.A. in Photojournalism from Boston University and a Masters in Mass Communications from the University of Leicester. In 2016, she served as the inaugural Pop Culture Criticism Fellow for Bitch Media.
FILM SOCIETY OF LINCOLN CENTER
The Film Society of Lincoln Center is devoted to supporting the art and elevating the craft of cinema. The only branch of the world-renowned arts complex Lincoln Center to shine a light on the everlasting yet evolving importance of the moving image, this nonprofit organization was founded in 1969 to celebrate American and international film. Via year-round programming and discussions; its annual New York Film Festival; and its publications, including Film Comment, the U.S.'s premier magazine about films and film culture, the Film Society endeavors to make the discussion and appreciation of cinema accessible to a broader audience, as well as to ensure that it will remain an essential art form for years to come.
The Film Society receives generous, year-round support from Shutterstock, the National Endowment for the Arts, and the New York State Council on the Arts with the support of Governor Andrew M. Cuomo and the New York State Legislature. American Airlines is the Official Airline of the Film Society of Lincoln Center.
Support for the New York Film Festival is generously provided by Official Partners HBO® and The New York Times, Benefactor Partners Dolby and illy caffè, Supporting Partners Warby Parker, MUBI, and Manhattan Portage, and Hospitality Partner Hudson Hotel. JCDecaux, Variety, Deadline Hollywood, WABC-7, WNET New York Public Media, and The Village Voice serve as Media Sponsors.