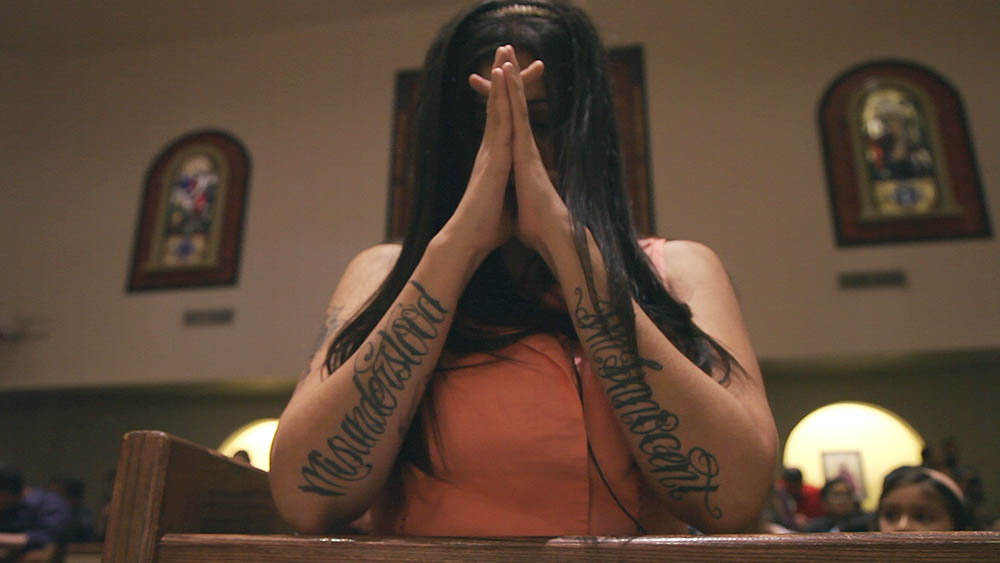 ON THE DIVIDE is gripping and compelling, edge-of-the-seat story telling at its best, with 79 minutes of take-a-deep-breath cinematography.
The filmmakers profile the lives of three McAllen, Texas, Latinx –
Mercedes, Denisse and Rey

– and their fateful interconnections to Whole Woman's Health, which is under a state of siege as the last abortion clinic in the US-Mexico border, and supplements the story line with the lives and issues of more McAllen-ians, also interconnected, to tell a sweeping Texas town showdown about one of America's most incendiary, sociopolitical issue of the ages.
Mercedes

, a tattooed Latina woman in her 30 who fled involvement in gangs, is now part of the pro-life Church movement, embracing the support from the Christian McAllen Pregnancy Center located next door to the clinic.

Denisse

, a young mother of four, is a volunteer at Whole Woman's Health and helps guide and assist women into the clinic.

Rey

, a Latino clinic security guard in his late 60s, is fervent in his Catholicism but also deeply empathetic to the plight of the women who seek help at the abortion clinic.
There are several other characters supplementing the filmmakers' tense and riveting drama pulsing with hostility and rancor though there is no on-screen violence. Picture above of Mercedes, courtesy Tribeca Film Festival.
ON THE DIVIDE is running virtually this date to June 23 through the Tribeca Film Festival website and is to have its Broadcast Premiere on PBS spring, 2022.
2012 Tribeca Film Festival Public Screenings:
WORLD PREMIERE, SUNDAY, June 13,, at Brooklyn Commons at MetroTech
VIRTUAL – MONDAY, June 14, 6:00 PM EDT on Cinesen
Directors: Maya Cueva (The Provider, Ale Libre), Leah Galant (Death Metal Grandma, The Provider)
Producers: Diane Becker (Tina, Inventing Tomorrow), Melanie Miller (Inventing Tomorrow, Equal),
Amanda Spain (Television Event, Pray Away), Elizabeth Woodward (The Great Hack,
Afterward)
Anti-abortion violence is violence committed against individuals and organizations that perform abortions or provide abortion counseling. Incidents of violence have included destruction of property, including vandalism; crimes against people, including kidnapping, stalking, assault, attempted murder, and murder; and crimes affecting both people and property, including arson and bombings.
Anti-abortion extremists are considered a current domestic terrorist threat by the United States Department of Justice. Most documented incidents have occurred in the United States, though they have also occurred in Australia, Canada, and New Zealand. G. Davidson Smith of Canadian Security Intelligence Service defined anti-abortion violence as single-issue terrorism. A study of 1982–87 violence considered the incidents "limited political" or "sub-revolutionary" terrorism. – Wikipedia. Nothing was found in Wikipedia about pro-choice violence against anti-abortion, pro-lifers.
---
ON THE DIVIDE begins in 2016 in the town of McAllen, Texas, at the site of the only abortion clinic in the US/Mexico border area, Whole Woman's Heath. It is under siege by holier-than-thou antiabortionists working out of  the anti-abortion McAllen Pregnancy Center one door down on the same side of the street and who lay claim that they their Christian (G)od supports their  trespassing misdemeanors, booming sonic barrages of music from audio devices at the clinic and engaging in other harassing forays teeming with menace.
Seething threats of imminent violence is palpable, though there is no on-screen violence – which doesn't mean viewers won't be on the edge of their seats. Off screen is a different matter, that is, there is blood and corporeal mayhem that ON THE DIVIDE viewers will not see. Because of virtuoso filmmaking, ON THE DIVIDE viewers see and experienced what is beyond a bird's-eye-view of this fight for a woman's right to choose; viewers are going to feel that they are right there in the maelstrom. No phony reality show verisimilitude here. Not a talking heads documentary.
Though the combat footage is in front of Whole Woman's Health – I'm exaggerating for effect –  is as compelling as a Hollywood action movie, it's the filmmakers vignettes, takes and sidebars of the people on both sides of the Divide as those sources go about their lives and commitments. The filmmakers technical virtuoso put the "war" right there in the living room as the audience is along for the rides in the cars, homes, walks, dates, and meetups of characters.
---
Director Maya Cueva, a Latina award-winning director and producer: Her work has been featured on NPR's All Things Considered, Latino USA, The Atlantic, Teen Vogue, and National Geographic. She was also part of the TFI/A&E StoryLab in 2020. Her short documentary, THE PROVIDER, premiered at SXSW and was nominated for a student Emmy.
Maya's other film, ONLY THE MOON, premiered at Full Frame Documentary Festival in 2019 and awarded her a Sundance Ignite Fellowship via the Sundance Film Institute. Maya was a 2019 North Star Fellow, a 2019 Film Independent Documentary Lab fellow, and a fellow at the Jacob Burns Film Center. Her most recent short documentary ALE LIBRE was selected to screen at several Oscar qualifying festivals, including Big Sky Documentary Festival, Hot Docs, Aspen Film Festival, and SFFILM.
Director Leah Galant, a Jewish filmmaker based in New York: She was named one of Variety's "110 Students to Watch in Film and Media" for her work on THE PROVIDER (SXSW 2016, Student Emmy Award) and BEYOND THE WALL.
She was a Sundance Ignite Fellow and Women Filmmaker Fellow at the Jacob Burns Film Center, where she created DEATH METAL GRANDMA which premiered at SXSW 2018, won the emerging documentary award at the American Pavilion at Cannes Film Festival, and is a NY Times Op Doc. She directed KITTY AND ELLEN, a short film about the friendship of two Holocaust survivors, which screened at DOC NYC 2017.
Gregg W. Morris can be reached at gregghc@comcast.net, profgreggwmorris@gmail.com