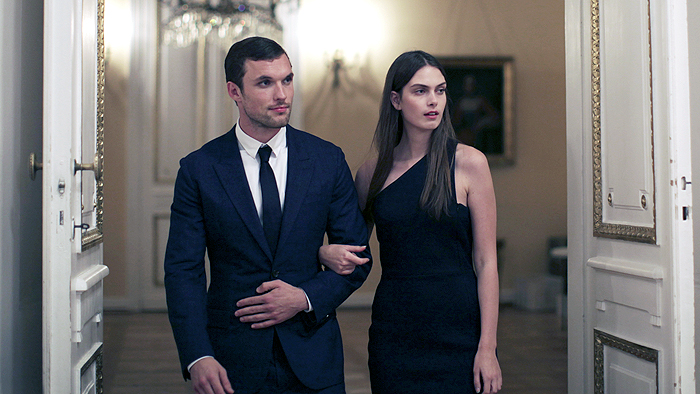 Publicity: When emerging fashion model Emma gets a chance to pursue her dream of becoming an international top model, she leaves her everyday life (and squeaky clean boyfriend) in Denmark and moves to Paris where, at a photo shoot, she meets the attractive photographer Shane White and they fall in love. But their relationship soon turns into a dangerous obsession for Emma.
Director: Mads Matthiesen
Denmark: English and Danish with English subtitles.
Three Stars: That is, should be seen on a big screen twice if possible because of the Matthiesen-ian magic in the telling of this story. Then at least one time at home though some will want to see it more than once.
Opening at Cinema Village Theater, August 12
---
THE MODEL is majestic and seductive and those gems and a truly imaginative script will keep your mind and eyes focused for the first 68 minutes as Director/Writer Mads Matthiesen takes his time – and I mean takes his time – meticulously and exquisitely spinning the story of Emma (Maria Palm), a fetching ingénue ever there was one, and the high fashion industry's unflinching debauchery that awaits her.
Emma and photographer Shane White (Ed Skrein) fall in love? That's bourgeois malarkey! Emma's dangerous obsession? Ha! Think, instead, Hell hath no fury like … a teenage ingénue, wronged, tapping into the rage of her inner child.
The challenge writing this review was to avoid spoilers. It's the way Matthiesen's narrative flows that worried this reviewer, that even merely mentioning Emma's age he could ruin the pleasure of surprises awaiting audiences. I might have given away too much even with this paragraph but I had to say it.
I came to review this movie by way of this tease, "their relationship soon turns into a dangerous obsession for Emma," expecting to see something akin to FATAL ATTRACTION (1978), directed by Adrian Lyne. Remember the bunny scene? Yes? No? Well, something like that I was hoping for. THE MODEL, however, is not a horror story and there is no bunny.
The first 68 minutes might seem deceivingly slow but the last 48, sometimes riveting, minutes percolate ominously – and some may realize their error about what they had imagined about the slowness of the first 68. Some will find this entrancing as I did and others perhaps will merely be delighted at the marvelously crafted, part two of this movie. As soon as THE MODEL ended, I needed to see it again. Some scenes pulsed like ecclesiastical epiphanies for this reviewer.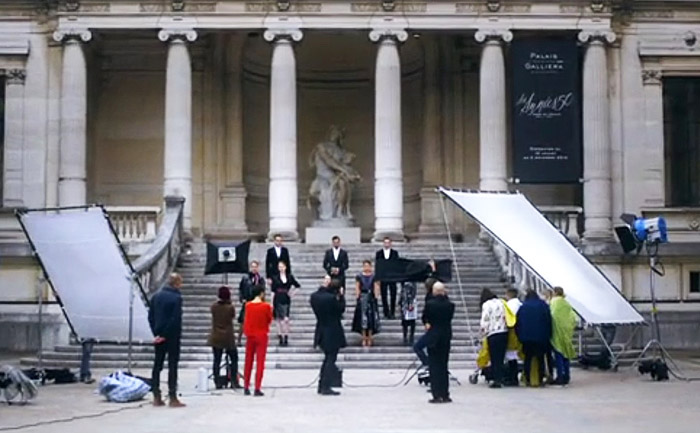 The very fetching Maria Palm as Emma is the spitting image of a ingenue with a very pretty face – who is utterly unsophisticated and unprepared for what awaits her as she aspires to become an international star sought by Chanel and Harper's Bazaar. A real life international fashion model, Palm was cast for the role, according to publicity, after an eight-month casting process of Danish fashion models. She did herself well. There were times her character was convincingly immature if not hickish and klutzy, and her vulnerability was like blood in a sea of great white sharks. That was all in the first 68 minutes, of course, but we subsequently see she her maturing.
Shane White as internationally sought-after photographer Ed Skrein projects incredible cool though he is a philandering, narcissistic mother f**king sob (which would be pronounced muther f**kin' sob in these United States). His character's on-screen suaveness mitigates his philandering mien enough for me to write that I can imagine many in the audience considering him a hunk to have a drink with despite his narcissism.
Moms and dads who see this movie will probably be in the audience without their kids. Lots of expletives, and the sex scenes are !!! but definitely not gratuitous.

Director Mads Matthiesen's rendition of Parisian High Fashion is pristine and free of moralistic pieties. It is what it is. If you can't swim with the sharks, go back to Denmark. His cinematic scenes of its banalities, pretensions and arrogance are spot on – or at least how we may imagine.
THE MODEL is his second feature and had its world premiere at 39th Göteborg International Film Festival 2016 and the 45th Rotterdam Film Festival. His first feature TEDDY BEAR (2012) premiered at Sundance Film Festival, winning him Best Director Award in the World Cinema Dramatic Competition. The film was nominated for the European Film Academy's European Discovery Award and was a big festival hit around the world winning a dozen of awards. It was sold for theatrical release to more than 20 countries.
Go see THE MODEL several times.
Gregg Morris can be reached at gmorris@hunter.cuny.edu