By Senior Editor and Tribeca Film Festival Special Correspondent James Kelly
The gaming industry is a new media frontier, the crest of the wave brought about by the Internet and computer generated animated films. Its contributions to story telling and visual expression are as significant as those by the radio and television.
And Hideo Kojima may be the most prominent of pioneers in the gaming industry frontier.
On Saturday, April 29, He will be discussing his visions for the future of gaming at the Tribeca Film Festival's game festival. To be present at the festival and have the privilege to hear Kojima share his ideas, theories, and predictions will open up a new chapter for me. I have followed him since childhood.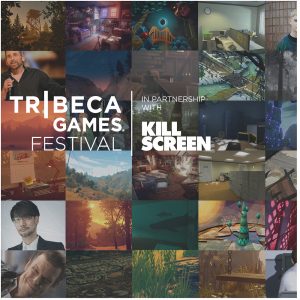 At the end of 2015, Kojima announced that he would be leaving Konami, the game publisher he had been employed by and partnered with since 1987. Soon, he will be releasing his first game, Death Stranding, from his independent studio, Kojima Productions. In the Metal Gear series, which made him an icon, he created a world that ran parallel to our own. He created stories that gave his audience an understanding of the Cold War, and the lives it affected all over the world.
He created his own history full of action, comedy, tragedy, and romance. Metal Gear Solid 3: Snake Eater, released in 2004 for the Plays\Station 2, to this day is still not only my favorite game, but its story even competes with the stories of my favorite books and films. Death Stranding looks like it will provide more of this kind of narrative and creativity to its audience.
Only now, Kojima's abilities to create a new world will be more refined due to technological developments, more years of experience, and the freedom his partnership with Sony will provide that Konami did not provide.
Kojima's celebrity status reflects the rise of the gaming industry which offers opportunity for work in various different fields, much like the film industry. However, unlike the film industry, the gaming industry is new. There is no tycoon monopolizing the industry. Anybody can download a program to a computer, develop a game, and publish it through various platforms, all from home and without much expense.
While Kojima can hire actors like Hollywood icon Keifer Sutherland or Norman Reedus of The Walking Dead, to star in his games, in interviews, he insists that there is a bright future for smaller, independent game developers as well.
According to an article in gameindustry.biz, the Information Handling Services Markit, a London based think tank, predicts that, in 2017, the gaming market will break the $100 billion and will continue "to be bigger than consumer spending on cinema box office, DVD and Blu-ray disc sales and rentals, online video services, physical music and streaming music services combined."
The Tribeca Film Festival has been a prestigious powerhouse for up and coming workers in the film industry for over a decade. Jane Rosenthal, co-founder and executive chair of the Tribeca Film Festival, acknowledged the festival's recognition of storytelling and creation in the gaming industry. In a TFF press release, she said, "Five years ago, Tribeca was the first film festival to welcome gaming to the official program. Since then, we've continued to support the storytellers who have propelled it to become the world's most popular and growing medium."
Kojima's appearance at this year's festival is a testimonial that his visions for the future of video games are coming to fruition. The weekend of April 28th will mark a milestone for a brand new industry and represents opportunity for gamers who share Kojima's visions for the future.
James Kelly can be reached at James.Kelly41@myhunter.cuny.edu