Edited by Gregg Morris
Copyrighted © Pictures Courtesy Baobab Studios
First Chapter to Premiere at 2017 Tribeca Film Festival
Leading virtual reality company Baobab Studios announced has announced that Diego Luna (Rogue One: A Star Wars Story) and Constance Wu (Fresh Off the Boat) are voicing characters in the series, RAINBOW CROW.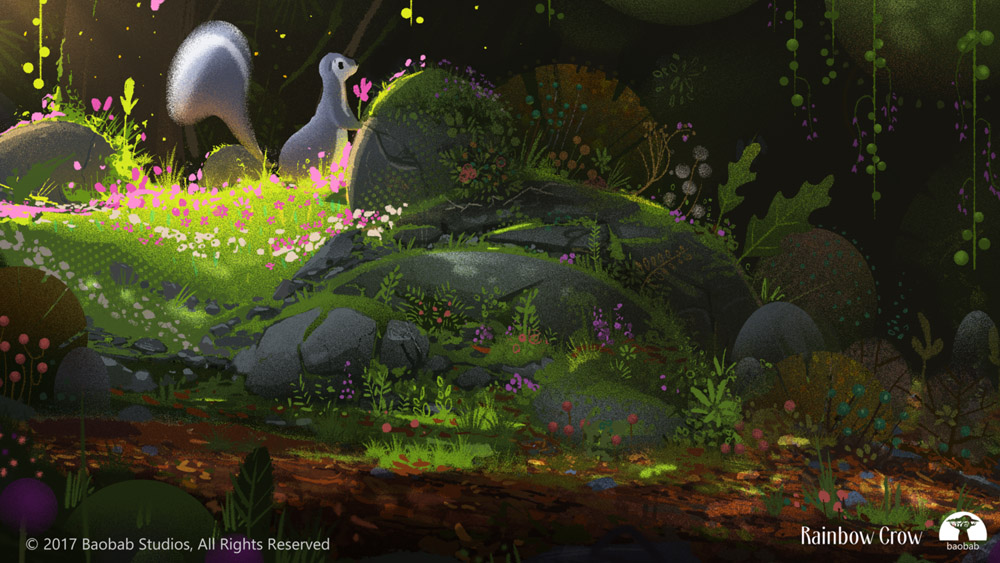 In the highly anticipated animated VR series, Luna will be voicing Moth while Wu will give voice to Skunk, who are both Rainbow Crow's companions helping him along his journey to save the forest. Baobab Studios recently announced, John Legend will executive produce and play the lead character. The first chapter of Rainbow Crow will premiere at New York THE2017 Tribeca Film Festival, April 19-29.
Diego Luna recently co-starred in the latest Star Wars installment, ROGUE ONE: A STAR WARS STORY and is set to star in the upcoming SCARFACE remake, which is slated to be released in 2018.. Constance Wu is known for playing Jessica Huang on FRESH OFF THE BOAT and is in pre-production for a starring role in the upcoming film CRAZY RICH ASIANS.
"We are thrilled that Diego Luna and Constance Wu feel that RAINBOW CROW is an important story to tell and have come on-board" says Maureen Fan, CEO and co-founder, Baobab Studios. "RAINBOW CROW is a tale about sacrifice, diversity, and self-acceptance, so we are proud to have an incredibly distinctive cast of talented storytellers who share our values. We can't wait for audiences to experience what these wonderful actors have created."
RAINBOW CROW is inspired by a legend originating from the Lenape tribe about a bird with the most dazzling plumage and mellifluous voice, who, after the planet turns dark and cold, must journey far from home to bring light back to the world. The series will be narrated by Kiowa-Caddo tribal elder, Randy Edmonds, an 83-year-old lifelong crusader for Native American rights and founder of the National Urban Indian Council.
"All Native American tales have a tradition of deep meaning and that's why we tell the stories, sharing down the generations," explains Edmonds, who left Oklahoma in 1954 for Southern California as part of the Indian Relocation Act. "When I look at the impact these legends have, the insights they represent, taking that storytelling to a modern medium is extremely exciting. The beautiful VR work being created -inspired by our folklore- is like nothing I've ever experienced in my many years."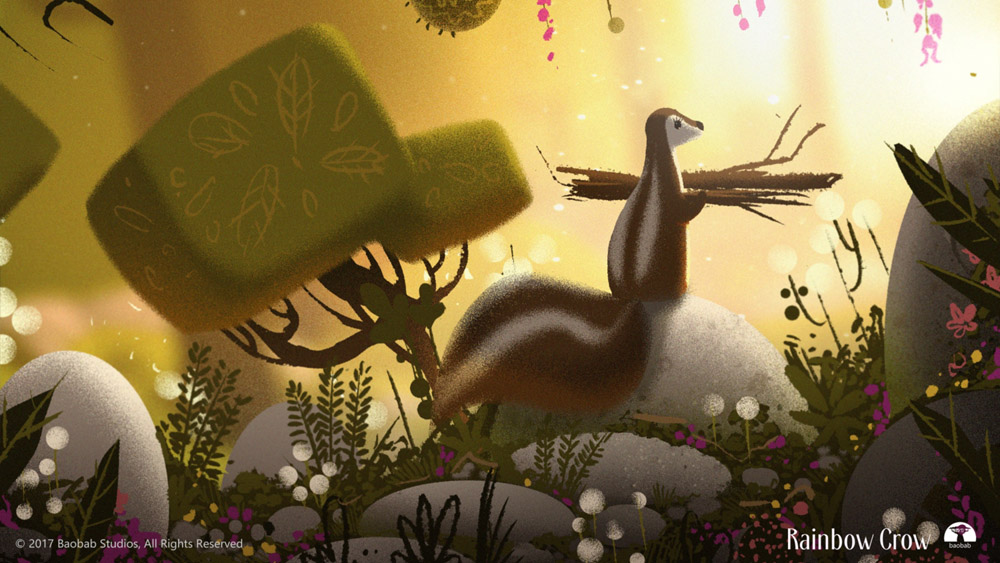 Baobab Studios, a leader in the VR industry, is known for its trademark animation style of creating tightly woven narratives, adored characters and carefully designed virtual worlds, all bringing the viewer to greater empathy. The studio has won awards from Cannes to Tribeca and more, for both Invasion! and Asteroids!, the studio's first two VR experiences crafted by a team with deep roots in tech, art and storytelling. Invasion! is nominated for an Emmy, and the characters in Invasion! will expand to the big screen as a feature film in collaboration with Roth Kirschenbaum Films. Actors Ethan Hawke and Elizabeth Banks also have voiced roles in Baobab Studio's animations.
Directed by Baobab's Co-Founder and Chief Creative Officer Eric Darnell, Rainbow Crow will have a distinct storybook look and feel. Darnell is best known for his director and screenwriter talents on all four films in the DreamWorks Animation's Madagascar franchise, netting over $2.5B in the box office, and for directing Antz.
The launch date for Rainbow Crow's first full episode has not yet been announced. For updates, follow Baobab's Rainbow Crow on Facebook, Twitter and Instagram.
Gregg Morris can be reached at gmorris@hunter.cuny.edu