Edited by Gregg Morris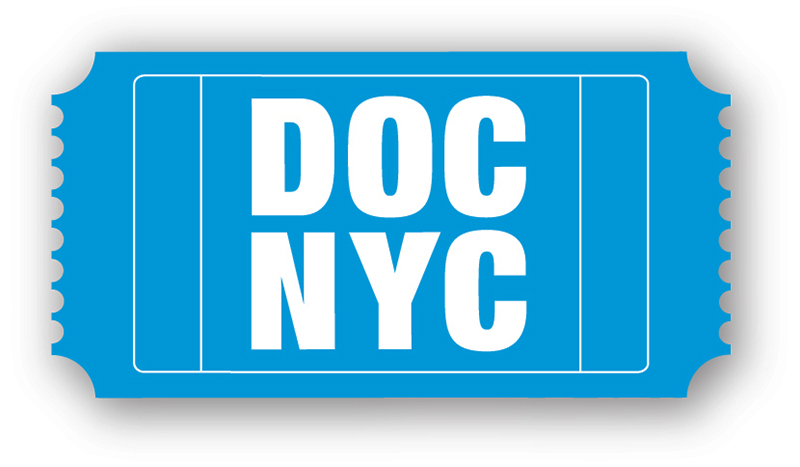 Program Includes 19 World Premieres, 19 U.S. Premieres Among Over 250 Films and Events
Citizen Jane: Battle for the City, Opens Festival, Chasing Trane: The John Coltrane Documentary, Closes Event
Special Guests Include Kenny Anderson, Neil deGrasse Tyson, Eve Ensler, L7, Doug Liman, Bill Moyers, Carolee Schneemann, Lori Singer, Stevie Van Zandt and acclaimed documentarians Fenton Bailey, Randy Barbato, Kirsten Johnson,
Barbara Kopple, Raoul Peck, Gianfranco Rosi, Roger Ross Williams
DOC NYC, America's largest documentary festival, at the IFC Center in Greenwich Village and Chelsea's SVA Theatre and Cinepolis Chelsea. Continuing the steady growth of the event, the 2016 festival includes 111 feature-length documentaries (44 percent directed/co-directed by women) and has expanded to showcase over 250 films and events overall. Included are 19 world premieres and 19 U.S. premieres, with more than 300 doc makers and special guests expected in person to present their films.
World premieres at the festival include City of Joy, presented by Eve Ensler, about a women's leadership community in Eastern Democratic Republic of Congo; the new Netflix series Captive, about stories of hostage-taking; HBO's Every Brilliant Thing, directed by Fenton Bailey and Randy Barbato, capturing the poignant and funny one-man show by Jonny Donahoe; and Rikers, a searing indictment of the New York prison.
The Closing Night film November 17 will be Chasing Trane: The John Coltrane Documentary, directed by John Scheinfeld (The U.S. vs John Lennon). It joins the previously announced Opening Night film Citizen Jane: Battle for the City, directed by Matt Tyrnauer (Valentino: The Last Emperor).
"Everyone loves a good story, and this year's lineup puts some fantastic true-life storytelling on display, drawing from the worlds of music, sports, art, crime, activism, and more," said Director of Programming Basil Tsiokos. "DOC NYC's filmmakers get to share these stories with New York City's diverse and influential audience — one that's incomparable to any other festival." Tsiokos led the program selection in collaboration with Artistic Director Thom Powers and Executive Director Raphaela Neihausen.
The festival is curated in 19 sections that include two new strands: True Crime (following the success of DOC NYC's 2015 world premiere of Making a Murderer) features HBO's Beware the Slenderman, about an Internet boogeyman (followed by a live conversation moderated by CNN's Brian Stelter); and Sour Grapes, about a swindle in the world of rare wine dealers. Science Nonfiction features the world premieres of Food Evolution, presented by narrator Neil deGrasse Tyson, which looks at the polarizing debate around genetically modified organisms; and Fight for Space on reawakening passion for space exploration.
In the festival's two feature competition sections, nine films appear under the Viewfinders section for distinct directorial visions. They include the world premiere of The Lure, executive produced by Errol Morris, about the hunt for a buried treasure; and the U.S. premieres of Girl Unbound: The War to Be Her, profiling the Pakistani squash player Maria Toorpakai Wazir (appearing in person); and The Beekeeper and His Son, about a generational clash in modern China.
In the Metropolis competition section, nine films are dedicated to stories set in New York City. They include the world premieres of All the Rage (Saved by Sarno), about Dr. John Sarno, who specializes in healing back pain in patients including celebrities Larry David and Howard Stern; Woman on Fire, profiling NYC's first openly transgender firefighter; and the North American premiere of Winter at Westbeth, about an artists housing community in Greenwich Village.
Other returning sections include high-profile Galas and Special Events; national and global takes in American Perspectives and International Perspectives; and thematic sections Fight the Power (on activism), Jock Docs (on sports), Sonic Cinema (on music), Modern Family (on unconventional families), Wild Life (on animals), Art & Design (on artists), Behind the Scenes (on filmmaking), Docs Redux (reviving classics), and DOC NYC U (showcasing student work). As the short-form documentary continues to expand, so does the festival's Shorts section, growing to 102 films in 2016 (from 76 in 2015).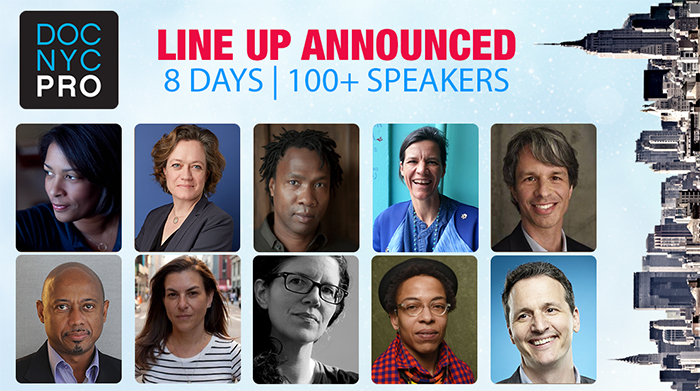 These sections join the previously announced slate of Short List titles, highlighting 15 of the year's award contenders, and the eight-day DOC NYC PRO conference, focusing on panels and masterclasses.
DOC NYC will welcome over 300 filmmakers and special guests in attendance for Q&As after most screenings. Among the notable visitors expected to appear in person are Eve Ensler for City of Joy; Bill Moyers for Rikers; Kenny Anderson for Mr. Chibbs; Stevie Van Zandt for Bang! The Bert Berns Story; Carolee Schneemann for Ken Dewey: This Is a Test; Lori Singer for God Knows Where I Am; Evan Wolfson for The Freedom to Marry; and members of L7 for L7: Pretend We're Dead.
"Often the most exciting finds at DOC NYC are the unforgettable characters you discover on screen — many also attending the festival in person," said festival Executive Director Raphaela Neihausen. Among the colorful and inspiring personalities that audiences will encounter at this year's festival are Padraig O'Malley, the self-appointed diplomat in The Peacekeeper; Naomi Kutin, the Orthodox Jewish teenage weightlifter in Supergirl; Dorian Rence, the Central Park cat lady in Feral Love; and Bob Hawk, the behind-the-scenes film impresario in Film Hawk.
The festival is pleased that for this year's Short List section of awards front runners, all 15 films will be accompanied by conversations with the filmmakers: Rod Blackhurst, Brian McGinn (Amanda Knox); Kirsten Johnson (Cameraperson); Gianfranco Rosi (Fire at Sea); Clay Tweel (Gleason); Raoul Peck (I Am Not Your Negro); Clive Oppenheimer (Into the Inferno); Kief Davidson, Richard Ladkani (The Ivory Game); Brian Oakes (Jim: The James Foley Story); Roger Ross Williams (Life, Animated); Fenton Bailey, Randy Barbato (Mapplethorpe: Look at the Pictures); Barbara Kopple (Miss Sharon Jones!); Ezra Edelman (O.J.: Made in America); Ava DuVernay (via Skype for 13th); Dawn Porter (Trapped); Josh Kriegman, Elyse Steinberg (Weiner). The filmmakers will also take place in the Short List Day of panel conversations on Nov. 11 at DOC NYC PRO.
Notable documentarians will also be honored at the previously announced Visionaries Tribute Awards event on November 10: Jonathan Demme and Stanley Nelson will receive Lifetime Achievement Awards while Dawn Porter will receive the Robert and Anne Drew Award for observational filmmaking. A&E IndieFilms executive Molly Thompson will receive the Leading Light Award for distinguished service to documentary in a role outside filmmaking.
The festival is made possible by Leadership Sponsor HBO Documentary Films.
Major Sponsors A&E IndieFilms, Amazon Studios, History Films, Netflix; Supporting Sponsors Image Nation Abu Dhabi, Showtime Documentary Films, Sony; Leading Media Sponsors Vulture, WNET; Signature Sponsors Mayor's Office of Media and Entertainment, National Geographic Channel, Participant Media, SundanceNow Doc Club, Technicolor-PostWorks New York, The Yard.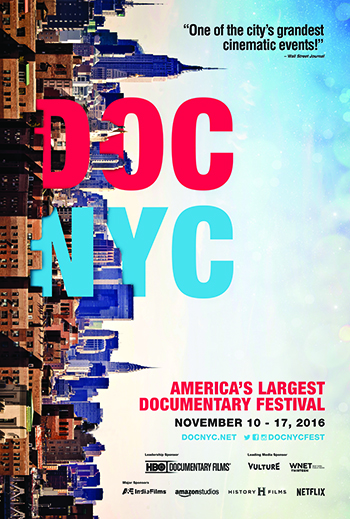 The following is a breakdown of programming by section:
GALAS
Opening Night
CITIZEN JANE: BATTLE FOR THE CITY
Dir: Matt Tyrnauer (US Premiere)
In the 1960s, writer and activist Jane Jacobs fights against NYC's most ruthless power broker, Robert Moses, and his draconian urban redevelopment plans.
Closing Night
CHASING TRANE: THE JOHN COLTRANE DOCUMENTARY
Dir: John Scheinfeld (NYC Premiere)
An exploration of the life and music of legendary jazz saxophonist, composer and tireless innovator, John Coltrane.
SPECIAL EVENTS
CAPTIVE: COLA KIDNAP
Dir: Jesse Vile (World Premiere)
Preview of an episode of a new Netflix docuseries, produced by Simon Chinn (Searching for Sugar Man) and executive-produced by Doug Liman (The Bourne Identity), focusing on the life and death stakes of different hostage situations. Courtesy of Netflix.
CITY OF JOY
Dir: Madeleine Gavin (World Premiere)
A chronicle of resilience as female survivors of violence create a revolutionary community in the Eastern Democratic Republic of Congo.
EVERY BRILLIANT THING
Dirs: Randy Barbato, Fenton Bailey (World Premiere)
The filmed version of Jonny Donahoe's acclaimed one-man show grapples with suicide in a performance that is both heart-wrenching and joyously full of life. Courtesy of HBO Documentary Films.
MARATHON: THE PATRIOTS DAY BOMBING
Dirs: Annie Sundberg, Ricki Stern (NYC Premiere)
A powerful look back at the Boston Marathon bombing following the manhunt for the terrorists while survivors contend with the aftermath. Courtesy of HBO Documentary Films.
THE PULITZER AT 100
Dir: Kirk Simon (NYC Premiere)
Oscar®-winning director Kirk Simon examines the rich legacy of the Pulitzer Prize.
SOUNDBREAKING: STORIES FROM THE CUTTING EDGE OF RECORDED MUSIC
Dirs: Maro Chermayeff, Jeff Dupre (NYC Premiere)
Featuring hundreds of original interviews with some of the most celebrated musicians of all time, two episodes of this eight-part chronicle of the history of music recording will be shown. Courtesy of WNET/PBS.
VIEWFINDERS COMPETITION
THE AGE OF CONSEQUENCES
Dir: Jared P. Scott (NYC Premiere)
Taking an eye-opening approach to climate change, The Age of Consequences reframes concern for the environment into a question of international security.
THE BEEKEEPER AND HIS SON
Dir: Diedie Weng (North American Premiere)
In a rural village in northern China, a father/son clash echoes the pull of tradition and modernization.
DEATH BY A THOUSAND CUTS
Dirs: Jake Kheel, Juan Mejia Botero (NYC Premiere)
When the body of a Dominican park ranger is found on the border with Haiti, his brutal murder exposes long-simmering tensions that boil over into xenophobia and racism. Courtesy of Participant/Univision.
FOREVER PURE
Dir: Maya Zinshtein (NYC Premiere)
Fans turn against an Israeli soccer team when the owner signs two Chechen Muslim players.
GIRL UNBOUND: THE WAR TO BE HER
Dir: Erin Heidenreich (US Premiere)
A young woman represents Pakistan on the national squash team, despite the Taliban's threats.
THE ISLANDS AND THE WHALES
Dir: Mike Day (NYC Premiere)
Faced with health concerns, as well as the clamor of international animal rights activists, inhabitants of a remote archipelago may be forced to abandon their ancient ways.
THE LURE
Dir: Tomas Leach (World Premiere)
Executive produced by Errol Morris, The Lure tells the story of an eccentric millionaire's buried treasure and those who are searching for it.
THE NINE
Dir: Katy Grannan (NYC Premiere)
Celebrated photographer Katy Grannan reveals a stigmatized world of drifters and hustlers in this exquisite portrait of a ravaged community.
THE ROAD
Dir: Zanbo Zhang (NYC Premiere)
An in-depth look at the corruption-plagued construction of a massive highway through a rural Chinese village.
METROPOLIS COMPETITION
ALL THE RAGE (SAVED BY SARNO)
Dirs: Michael Galinsky, Suki Hawley, David Beilinson (World Premiere)
A controversial approach to treating back pain prompts a radical rethink of how we approach health care.
BORDERLINE
Dir: Rebbie Ratner (NYC Premiere)
A portrait of a New Yorker living with Borderline Personality Disorder as she seeks self acceptance and recovery.
THE INCOMPARABLE ROSE HARTMAN
Dir: Otis Mass (NYC Premiere)
A fixture of the NYC nightlife and fashion scenes, photographer Rose Hartman has shot some of the most indelible images of pop culture of the past 40 years.
OFF THE RAILS
Dir: Adam Irving (NYC Premiere)
The stranger-than-fiction story of serial MTA imposter Darius McCollum, who has been jailed more than 30 times for illegally driving buses and conducting subway trains.
RIKERS
Prods: Marc Levin, Mark Benjamin, Rolake Bamgbose (World Premiere)
Former detainees of Rikers Island offer searing testimonials about violence and corruption that has plagued the notorious NYC jail for decades. From executive producer Bill Moyers.
SCOTT'S PIZZA TOURS
Dirs: Shawn Willis, Ryan Jones (World Premiere)
Scott Wiener channels his infectious enthusiasm into a successful pizza-tasting tour business, finding unlikely fame.
THY FATHER'S CHAIR
Dirs: Antonio Tibaldi, Alex Lora (NYC Premiere)
Orthodox Jewish identical twin hoarders finally allow a cleaning crew to save their Brooklyn home.
WINTER AT WESTBETH
Dir: Rohan Spong (North American Premiere)
A spotlight on three longtime residents of the West Village's Westbeth Artists Housing.
WOMAN ON FIRE
Dir: Julie Sokolow (World Premiere)
This profile of courage under fire celebrates NYC's first openly transgender firefighter.
AMERICAN PERSPECTIVES
95 AND 6 TO GO
Dir: Kimi Takesue (North American Premiere)
In this affectionate portrait, the filmmaker finds an unlikely creative collaborator in her 90-year-old grandfather.
AFTER FIRE
Dir: Brittany Huckabee (World Premiere)
Set in the military outpost of San Antonio, TX, After Fire highlights the challenges faced by women, the fastest growing group of American veterans.
AMERICAN ANARCHIST
Dir: Charlie Siskel (NYC Premiere)
A probing interview with the originator of The Anarchist Cookbook over the book's troubling legacy. Courtesy of Gravitas Ventures.
BECOMING MORE VISIBLE
Dir: Pamela French (NYC Premiere)
A spotlight on four diverse young transgender New Yorkers as they contend with family and societal expectations to become their true selves.
BIG SONIA
Dirs: Leah Warshawski, Todd Soliday (NYC Premiere)
A Holocaust survivor with an outsized personality faces her biggest fear: retirement.
CARE
Dir: Deirdre Fishel (NYC Premiere)
Care follows three home caregivers, uncovering the failures of the US eldercare system.
GOD KNOWS WHERE I AM
Dirs: Jedd Wider, Todd Wider (NYC Premiere)
An indictment of our flawed mental health care system through the story of a woman found in an abandoned New Hampshire farmhouse.
THE PEARL
Dirs: Jessica Dimmock, Christopher LaMarca (NYC Premiere)
An intimate profile of four transgender women who come out for the first time in their later years.
INTERNATIONAL PERSPECTIVES
BEZNESS AS USUAL
Dir: Alex Pitstra (US Premiere)
The filmmaker, the product of a romance between a Dutch tourist and a Tunisian man, tries to reconnect with his father.
DIVING INTO THE UNKNOWN
Dir: Juan Reina (US Premiere)
A team of cave divers on a dangerous covert mission in the name of brotherhood.
FINDING OSCAR
Dir: Ryan Suffern (NYC Premiere)
Executive produced by Steven Spielberg, Finding Oscar seeks justice for the victims of a state-sponsored Guatemalan massacre.
LETTERS FROM BAGHDAD
Dirs: Zeva Oelbaum, Sabine Krayenbühl (North American Premiere)
The story of Gertrude Bell, a fearless adventurer, spy and political powerhouse who helped shape the modern Middle East after World War I.
THE PEACEMAKER
Dir: James Demo (NYC Premiere)
A negotiator in crisis zones from Northern Ireland to Kosovo to Iraq struggles with his inner demons.
PLEASE REMEMBER ME
Dir: Qing Zhao (NYC Premiere)
Octogenarians Feng and Lou have been inseparable for over 40 years, but aging and illness threaten their deep bond.
SACRED
Dir: Thomas Lennon (North American Premiere)
Directed by Academy Award® winner Thomas Lennon and shot around the globe by 40 different teams of filmmakers, Sacred explores spirituality across cultures and religions. Courtesy of WNET/PBS.
THOSE WHO JUMP (LES SAUTEURS)
Dirs: Estephan Wagner, Moritz Siebert (NYC Premiere)
From the producers of The Act of Killing and The Look of Silence comes this inside look at the experiences of African migrants desperately trying to reach Europe.
VISITOR'S DAY
Dir: Nicole Opper (NYC Premiere)
Juan Carlos spent years on the streets of Mexico City before finding his way to a unique group home for runaway boys.
TRUE CRIME
BEWARE THE SLENDERMAN
Dir: Irene Taylor Brodsky (NYC Premiere)
A chronicle of the case of a pair of 12-year-old Wisconsin girls who attempted to murder their friend to appease an Internet bogeyman. Courtesy of HBO Documentary Films.
THE MAN WHO SAW TOO MUCH
Dir: Trisha Ziff (NYC Premiere)
The compelling work of a crime-scene photographer speaks to our morbid fascination with death and accidents.
THE PROMISE
Dirs: Marcus Vetter, Karin Steinberger (NYC Premiere)
A brutal double homicide reveals dark family secrets, selfless love, broken promises and the limits of the American justice system.
SANTOALLA
Dirs: Andrew Becker, Daniel Mehrer (NYC Premiere)
In an all-but-abandoned Spanish village, neighbors become embroiled in a feud with dangerous consequences.
SOUR GRAPES
Dirs: Jerry Rothwell, Reuben Atlas (NYC Premiere)
The story behind one of the biggest controversies in the world of fine wine.
UNSEEN
Dir: Laura Paglin (NYC Premiere)
The discovery of a serial killer operating in plain sight prompts questions about marginalized lives and criminal justice.
SCIENCE NONFICTION
FIGHT FOR SPACE
Dir: Paul Hildebrandt (World Premiere)
An urgent call to re-awaken our sense of wonder and discovery through space exploration.
FOOD EVOLUTION
Dir: Scott Hamilton Kennedy (World Premiere)
Food Evolution, narrated by Neil deGrasse Tyson, explores the polarized debate surrounding GMOs.
HOW TO BUILD A TIME MACHINE
Dir: Jay Cheel (NYC Premiere)
Time travel becomes a life-long obsession for two men.
MACHINE OF HUMAN DREAMS
Dir: Roy Cohen (North American Premiere)
A tech guru is on the cusp of realizing his lifelong dream of developing human-like artificial intelligence.
THE UNIVERSITY
Dir: Matt Rutherford (NYC Premiere)
At Singularity University, today's brightest minds dream up solutions for the world of the future.
ART & DESIGN
CALIFORNIA TYPEWRITER
Dir: Doug Nichol (NYC Premiere)
An ode to a technology that most find obsolete and disposable but which some still joyously embrace.
DAVID LYNCH: THE ART LIFE
Dirs: Jon Nguyen, Rick Barnes, Olivia Neergaard-Holm (North American Premiere)
Granting viewers unparalleled, intimate access to the enigmatic auteur, this portrait is an indispensable look at an artist and his process. Courtesy of Janus Films.
KEN DEWEY: THIS IS A TEST
Dir: Sally Williams (World Premiere)
An unheralded yet pivotal figure in the art world of the 1960s and '70s, Ken Dewey was a visionary artist and iconoclast.
TONY CONRAD: COMPLETELY IN THE PRESENT
Dir: Tyler Hubby (NYC Premiere)
Groundbreaking avant-garde multimedia artist Tony Conrad's work in experimental film and video, music and sound art spans more than 50 years.
WILD LIFE
FERAL LOVE
Dir: Markie Hancock (NYC Premiere)
When she's not trudging through the snow to bring kibble to her cherished felines, Dorian plays viola with the New York Philharmonic.
LONG LIVE BENJAMIN
Dirs: Jimm Lasser, Biff Butler (World Premiere)
While visiting Venezuela in 1997, noted portrait artist Allen Hirsch meets a Capuchin monkey who would change his life.
NALEDI: A BABY ELEPHANT'S TALE
Dirs: Ben Bowie, Geoff Luck (NYC Premiere)
When a one-month-old elephant is suddenly orphaned, her very survival depends on human intervention.
MODERN FAMILY
CIRCUS KID
Dir: Lorenzo Pisoni (NYC Premiere)
Circus Kid captures the spirit, lunacy, daring and dynamics of growing up in a circus family.
FOLLOWING SEAS
Dirs: Tyler J. Kelley, Araby Williams (NYC Premiere)
Bob and Nancy Griffith made 20 ocean voyages over two decades, fulfilling a dream of freedom and adventure in their 53-foot sailboat.
THE GUYS NEXT DOOR
Dirs: Amy Geller, Allie Humenuk (NYC Premiere)
A married woman in her forties, with a husband and three children, is also the surrogate mother for her married gay friends' children.
THE JONESES
Dir: Moby Longinotto (NYC Premiere)
Jheri Jones, a lively 74-year-old transgender divorcée, works hard to keep her family together in a trailer park home in the Bible Belt of Mississippi.
BEHIND THE SCENES
LE CONCOURS
Dir: Claire Simon (North American Premiere)
Go behind closed doors during the months-long admissions period at France's most selective film school, La Fémis.
FILM HAWK
Dirs: JJ Garvine, Tai Parquet (NYC Premiere)
Bob Hawk has been a secret weapon for independent filmmakers for decades, helping launch the careers of the likes of Kevin Smith and Ed Burns.
FINDING KUKAN
Dir: Robin Lung (North American Premiere)
A filmmaker begins investigating the production of a lost Oscar®-winning documentary and makes unanticipated discoveries.
SCORE: A FILM MUSIC DOCUMENTARY
Dir: Matt Schrader (NYC Premiere)
Score shines a spotlight on the overlooked craft of film composing.
VERSUS: THE LIFE AND FILMS OF KEN LOACH
Dir: Louise Osmond (North American Premiere)
During the making of Ken Loach's Palme d'Or winning I, Daniel Blake, filmmaker Louise Ormond (Dark Horse) captures his process.
JOCK DOCS
BUNKER77
Dir: Takuji Masuda (NYC Premiere)
Heir to a sugar fortune and stepson of Clark Gable, Bunker Spreckels defied family expectations by embracing surf culture.
CHASING THE WIN
Dirs: Laura Sheehy, Chris Ghelfi (NYC Premiere)
When American thoroughbred Kinsale King comes out of nowhere to claim the Dubai World Cup, he and his trainer become instant celebrities.
CHEER UP
Dir: Christy Garland (US Premiere)
It's not easy being the coach of the Ice Queens, Finland's worst cheerleading team.
LIGHTS OF ROME
Dir: Ali Khalid (World Premiere)
A group of young UAE footballers defy the odds on the international stage and secure a place to compete in the World Cup in Italy.
MR. CHIBBS
Dir: Jill Campbell (World Premiere)
Ten years after retirement from a career as a professional athlete, Kenny Anderson finds that basketball is easy, it's life that's hard.
ON THE MAP
Dir: Dani Menkin (NYC Premiere)
In 1977, Tel Aviv's underdog Maccabi basketball team took on the Soviet Red Army team.
SUPERGIRL
Dir: Jessie Auritt (NYC Premiere)
Naomi seems like a typical Orthodox Jewish preteen, but she happens to be the strongest girl in the world.
SWIM TEAM
Dir: Lara Stolman (NYC Premiere)
The Jersey Hammerheads is a competitive swim team made up of a diverse group of teens on the autism spectrum.
THIS WAS THE XFL
Dir: Charlie Ebersol (World Premiere)
Launched to fanfare in 2001, the XFL lasted only a single season, making up rules – and breaking them – as it went along. Courtesy of ESPN Films.
FIGHT THE POWER
AGENTS OF CHANGE
Dirs: Frank Dawson, Abby Ginzberg (NYC Premiere)
A revealing history of the battle for black and ethnic studies programs on college campuses.
BOBBY SANDS: 66 DAYS
Dir: Brendan Byrne (US Premiere)
The story of the Irish Republican Army hunger strike led by Bobby Sands to demand special recognition as political prisoners.
THE FREEDOM TO MARRY
Dir: Eddie Rosenstein (NYC Premiere)
The architect of the same-sex marriage movement recalls the victories – and setbacks – that set the stage for the landmark Supreme Court decision.
THE HOUSE ON COCO ROAD
Dir: Damani Baker (NYC Premiere)
A young African-American activist seeks a haven for her family in Grenada, only to face an invasion by the US military.
MAGNIFICENT BURDEN
Dir: Rob Nelson (NYC Premiere)
The socialite daughter of a nightlife impresario becomes a vocal activist after adopting a boy with a rare genetic disorder.
MOTHER WITH A GUN
Dir: Jeff Daniels (North American Premiere)
The story of the Jewish Defense League and its current leader, an archetypal good Jewish girl turned extremist.
SONIC CINEMA
THE BALLAD OF FRED HERSCH
Dirs: Carrie Lozano, Charlotte Lagarde (NYC Premiere)
Acclaimed pianist Fred Hersch transforms his darkest hours into an innovative multimedia jazz theatre experience.
BANG! THE BERT BERNS STORY
Dirs: Brett Berns, Bob Sarles (NYC Premiere)
Prolific songwriter and producer Bert Berns was behind such classics as "Piece of My Heart" and "Twist and Shout," while also launching the careers of Van Morrison and Neil Diamond.
L7: PRETEND WE'RE DEAD
Dir: Sarah Price (World Premiere)
Grab your backstage pass and take a visceral immersion into the 1990s with one of its seminal grunge punk bands, L7.
RAVING IRAN
Dir: Susanne Regina Meures (US Premiere)
An unexpected invitation offers a taste of freedom to Iranian underground DJs risking imprisonment for pursuing their passion.
SERENADE FOR HAITI
Dir: Owsley Brown (World Premiere)
This portrait of a classical music school in Haiti is a poignant testament to resilience, hope and the power of music.
THE SIXTH BEATLE
Dirs: Tony Guma, John Rose (NYC Premiere)
This fresh take on the early days of The Beatles shines a spotlight on the band's early manager Sam Leach.
WE WROTE THIS YESTERDAY
Dir: Sam Wrench (World Premiere)
While on tour through South Africa, the Grammy Award-winning Mumford & Sons reveal their creative process, attempting to write and record a mini-album in just two days.
THE WONDERFUL KINGDOM OF PAPA ALAEV
Dirs: Tal Barda, Noam Pinchas (US Premiere)
As the controlling patriarch of a family folk rock group ages, the future of the family business is in jeopardy.
DOCS REDUX
THE BLACK PRESS: SOLDIERS WITHOUT SWORDS (1999)
Dir: Stanley Nelson
DOC NYC Lifetime Achievement Award-winner Stanley Nelson traces the history of African-American journalism.
TO BE HEARD (2010)
Dirs: Roland Legiardi-Laura, Edwin Martinez, Deborah Shaffer, Amy Sultan
Free screening co-presented with the Mayor's Office of Media and Entertainment. This celebration of great teachers, poetry and self-empowerment won DOC NYC's inaugural Metropolis Jury Prize and Audience Award in 2010.
VINTAGE: FAMILIES OF VALUE (1995)
Dir: Thomas Allen Harris
A pioneering film spotlighting the experiences of queer African-American siblings, accompanied by the Digital Diaspora Family Reunion Roadshow, an audience participation event.
SHORTS
Shorts: The Artist is Present
Five portraits of artists in five different mediums.
Shorts: Concerning Her
Stories about women and their work.
Shorts: The Creative Spark
Films about artistic inspiration and creativity.
Shorts: I ♥ NY
Short films about New York, NY. If you can make it here…
Shorts: L-O-V-E
Four letters that make the world go round.
Shorts: Perspectives
Enigmas, innovations and histories.
Shorts: Speaking Up, Speaking Out
Films on seeking justice.
Shorts: Thrills & Agonies
The sporting life, on and off the field.
Shorts: Clínica de Migrantes + Emergency Room
Two shorts offer contrasting looks at health care: a volunteer-run clinic serving undocumented Latinos and an understaffed hospital in small-town China.
Shorts: La Laguna + A House Without Snakes
Two short films explore the lives of young people caught between their traditional communities and the promise of modern living.
Shorts: FUSION Project Earth Doc Challenge
Filmmakers from around the world were challenged to create short documentaries focused on the environment in just five days.
Shorts: The New York Times Op-Docs Presents A Conversation On Race
A broad group of contributors with diverse perspectives create short films to advance discussions about the state of race relations in America.
DOC NYC U
– DOC NYC U – Columbia University Showcase
A spotlight on work being made by students in The Documentary Project at Columbia Journalism School.
– DOC NYC U – Hunter College Showcase
A spotlight on work being made by students in Hunter College's MFA Program in Integrated Media Arts.
– DOC NYC U – New York Film Academy Showcase
A spotlight on work being made by students in NYFA's intensive, hands-on programs in documentary filmmaking.
– DOC NYC U – New York University Showcase
A spotlight on work being made by students in NYU Journalism's News and Documentary program.
– DOC NYC U – School of Visual Arts Showcase
A spotlight on work being made by students in the School of Visual Arts' MFA Social Documentary Film, SocDoc.
SHORT LIST
13TH
Dir: Ava DuVernay
Ava DuVernay (Selma) explores the troubling links between race and incarceration in America. Courtesy of Netflix.
AMANDA KNOX
Dirs: Brian McGinn, Rod Blackhurst
The 2007 murder of a British exchange student in Perugia, Italy is a case study in the vagaries of crime and punishment. Courtesy of Netflix.
CAMERAPERSON
Dir: Kirsten Johnson
Acclaimed cinematographer Kirsten Johnson constructs a globetrotting memoir that serves as a testimony to the power of image-making. Courtesy of Janus Films.
FIRE AT SEA
Dir: Gianfranco Rosi
Winner of the Berlin Film Festival's top prize, Fire at Sea takes an observational look at the waves of refugees landing on the tiny Italian island of Lampedusa. Courtesy of Kino Lorber.
GLEASON
Dir: Clay Tweel
After former New Orleans Saints defensive back Steve Gleason receives a devastating diagnosis of ALS, he turns the camera on himself. Courtesy of Amazon Studios and Open Road.
I AM NOT YOUR NEGRO
Dir: Raoul Peck
A stunning, topical film essay adapted from James Baldwin's unfinished book about three martyrs of civil rights, Martin Luther King Jr, Malcolm X and Medgar Evers. Courtesy of Magnolia Pictures.
INTO THE INFERNO
Dir: Werner Herzog
Werner Herzog (Cave of Forgotten Dreams) teams with a noted volcanologist to travel the world for a meditation on volcanoes and their meaning. Courtesy of Netflix.
THE IVORY GAME
Dirs: Richard Ladkani, Kief Davidson
The Ivory Game is a suspenseful chronicle about the battle to save the African elephant. Courtesy of Netflix.
JIM: THE JAMES FOLEY STORY
Dir: Brian Oakes
Unwilling to allow American photojournalist James Foley to be remembered only by his death at the hands of ISIS, his childhood friend celebrates his life and work. Courtesy of HBO Documentary Films.
LIFE, ANIMATED
Dir: Roger Ross Williams
Ron Suskind discovers that Disney animated films provide the key to connecting with his severely autistic son Owen. Courtesy of The Orchard and A&E IndieFilms.
MAPPLETHORPE: LOOK AT THE PICTURES
Dirs: Fenton Bailey, Randy Barbato
A portrait of Robert Mapplethorpe, who emerged from the vibrant 1970s New York art scene to become a celebrated, controversial photographer. Courtesy of HBO Documentary Films.
MISS SHARON JONES!
Dir: Barbara Kopple
Two-time Oscar®-winner Barbara Kopple follows Sharon Jones – "the female James Brown" – as she faces adversity. Courtesy of Starz.
O.J.: MADE IN AMERICA
Dir: Ezra Edelman
More than 20 years later, Ezra Edelman revisits not only O.J. Simpson's infamous "trial of the century," but the story of his entire life. Courtesy of ESPN Films.
TRAPPED
Dir: Dawn Porter
Dawn Porter, this year's Robert and Anne Drew Award-winner, tells the story of two Southern reproductive-health clinics struggling to stay open against a wave of restrictive legislation. Courtesy of PBS-Independent Lens and Abramorama.
WEINER
Dirs: Josh Kriegman, Elyse Steinberg
With remarkable inside access, Weiner captures the impact of Anthony Weiner's sexting scandal on his mayoral campaign. Courtesy of IFC Films and Showtime.
---
For complete program information, go to:
www.docnyc.net
Tickets:
Tickets for all screenings are now on sale to the public. Tickets for all DOC NYC films and events are available online at docnyc.net. In-person tickets are available in advance at the IFC Center box office, 323 Sixth Ave. (at West 3rd St.); during the festival, in-person tickets are available for all screenings at any DOC NYC venue box office.
Ticket prices: Opening night screening of Citizen Jane and closing night screening of Chasing Trane: The John Coltrane Documentary – $30. Regular screenings – $18 adults, $16 seniors/children, $15 IFC Center members. Short List and DOC NYC U screenings – all tickets $10.
Passes:
DOC NYC offers three types of festival passes for audiences eager to enhance their DOC NYC experience:
An All Access Pass is available for $750, giving audiences a chance to explore the full range of the festival's expansive offerings, including all films, panels and events.
A DOC NYC PRO Pass, giving access to the eight-day lineup of panels, masterclasses and programming for filmmakers and industry professionals, plus access to the PRO Lounge, daily breakfasts and happy hours, weekday matinee screenings and additional free film screening invitations during the festival, is also on offer this year for $399. PRO passholders may also purchase an upgrade to attend the November 14-17 Only in New York meetings.
A limited number of Day Passes for each of the individual days of DOC NYC PRO, granting access to that day's PRO events as well as use of the PRO lounge, including breakfast and happy hour, are also available for $75.
All types of passes can be purchased online at www.docnyc.net/passes or in person at the IFC Center box office. Additional details about pass benefits and use are available on the festival's website.
DOC NYC, America's largest documentary festival, takes place over 8 days in November; the seventh edition will be held November 10-17, 2016 at New York's IFC Center, Cinepolis Chelsea and the SVA Theatre. The 2016 festival showcases over 250 films and events with more than 300 filmmakers and special guests appearing in person. In addition to premiering feature-length and short documentaries, the festival's highlights also include DOC NYC PRO—a series of in-depth panels and master classes—and the Visionaries Tribute awards ceremony that honors major figures in the field of nonfiction film.
DOC NYC is produced by the IFC Center. www.docnyc.net
Gregg Morris can be reached at gmorris@hunter.cuny.edu