A stylish, 5-star eerie-psycho-thriller horror drama simmering in Freudian undertones and overtones delectably served up by Director-Writer Peter Hengl about the eccentric, peculiar and absurdist tastes of an extended dysfunctional bourgeois family celebrating an Easter Holiday family tradition.
Spread the word, the Grand Guignol of Peter Hengl's FAMILY DINNER can rock your palates.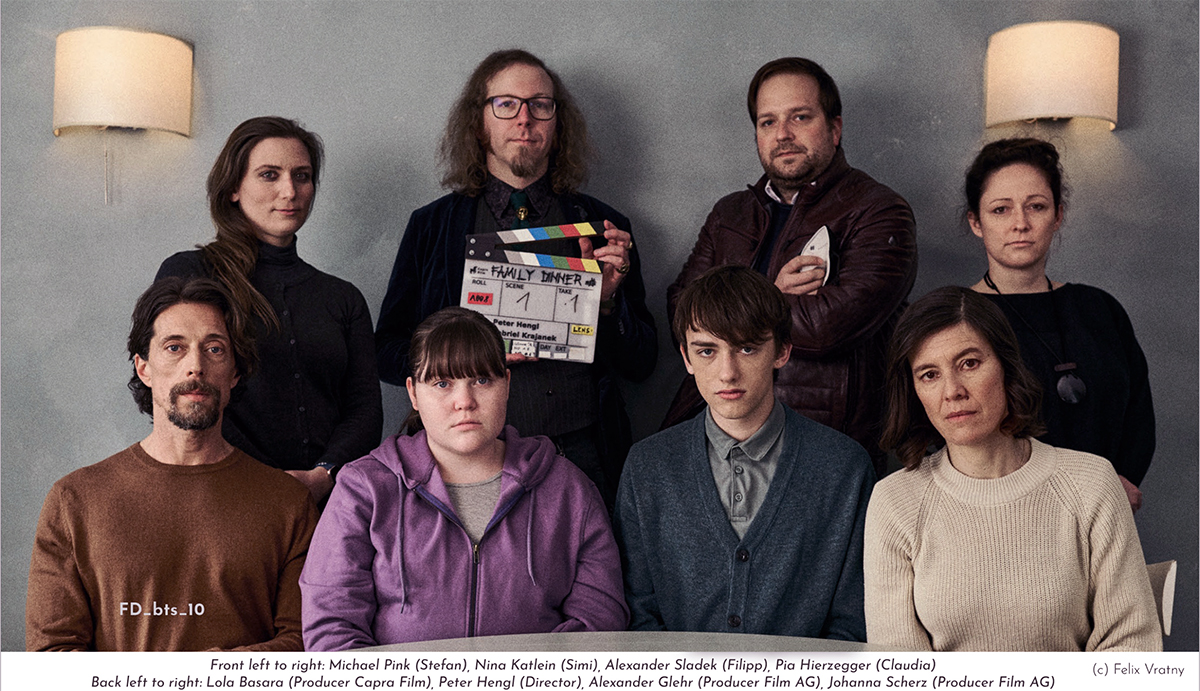 Picture (c) Felix Vratny
Says Tribeca Film Festival's Matt Barone – "one of the most impressive genre debuts in years."
A feeling of impending doom and dread materializes in the opening scenes of a bird's-eye view of a car chauffeuring Simi, played by Nina Katlein, to the Easter Holiday fête-in-the-works. That impression, this reviewer felt, eventually faded, yet, resonated subliminally, nevertheless, through scenes of haute cuisine and nouvelle cuisine being prepared, sliced, diced and butchered for dinner celebrations.
Yet, there well were other scenes of what one might expect of a typical dysfunctional bourgeois family.
Hengl's story largely unfolds through Simi's eyes, experiences – culinary and otherwise – and dreams (there be nightmares too) as the curvy high school ingenue, in her late teens, visits the home of her aunt, Claudia, played by Pai Hierzegger as a recognized celebrity nutritionist of best-selling culinary health books.
On these grounds, Claudia wields the chef's tools of trade, her husband the butcher's.
Simi's mom, who for reasons not explained, didn't make the trip but, nevertheless, had hatched a plan she believed would help her daughter become more attractive. That is, the celebrated Sister Claudia could help Niece Simi slim down to look attractive if Auntie feeds her niece the right meals. Simi, however, must push the right buttons, familial, of course, to insinuate herself to an aunt who is not particularly interested in mentoring, as audiences learn.
Simi's high schoolish cousin, Filipp, played by Alexander Sladek, sneers at Simi from the get-go but only when he's alone with Simi, especially in the bedroom they share. His stepdad, Stefan, played by Michael Pink, is polite to Simi, as he is contemptuous of his stepson – though he camouflages his real feelings and insists the opposite to Wife Claudia. Will familial tensions ever cease? Not in this family.
The bravura filmmaking will keep audiences on the edge of their seats 90-plus minutes, and Director-Writer Hengl accomplishes this sans the customary horror film trimmings used by many filmmakers to add zest to their zestless cinemas: Gore, zombies, demonic possessions, X-rated prurience, CGI.
Hengl, instead, weaves movie making magic that will have audiences teetering on the edge of their seats, and, yep, some are going to feel as if they're tottering on the brink of the abyss.
Best seen with friends or family and maybe even really cool theater-goers (wearing masks, of course) who won't mock or smirk at film theater patrons finding solace doing peekaboo-s, say, from behind popcorn containers. Brooding tension fulminates beneath the pretentious social interactions of the main characters who express a lot of 'love you-s' while holding their knives, forks, spoons, plates, napkins and sundries at the ready.
Spread the word, the Grand Guignol of Peter Hengl's FAMILY DINNER can rock your palates.
Gregg W. Morris can be reached at gregghc@comcast.net, gmorris@hunter.cuny.edu