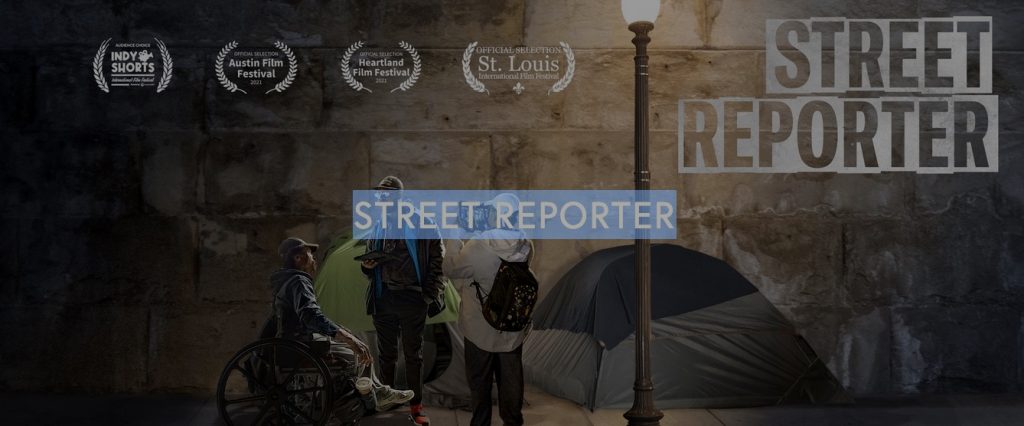 "I don't want to die, to be honest with you, that's what motivates me to get out of bed and go to school and just keep pushing forward," says Sheila M. White in one of the many evocative and compelling scenes in STREET REPORTER. She is a savvy, street wise photo-journalist cum raconteur for Washington D.C.'s Street Sense, a weekly newspaper that focuses on the pursuit of the truth, the whole truth and nothing but the truth about homelessness.
Advocacy, investigative and ethnographic journalism are fused transcendently in this 26-minute film short packing the wallop of those full length, five-star documentary films (and even some narrative fiction feature films) advocating against injustice and tyranny, contributing to the cause of making the world a better place to live, or, just as importance, inspiring audiences to imagine that they can make the world a better to live no matter how things are gloomy in these days of Trump-ism and COVID.
Director Laura Waters Hinson's STREET REPORTER is a captivating documentary about homelessness featuring a homeless person cum photo journalist going about her business of pursuing the the truth journalistically via the usual tools: Interviews, photographs, videos about the experiences in the homeless dungeons of Washington, D.C. Interviews are face to face.
Not too long into this 26-minute movie short, it becomes clear that STREET REPORTER provides insight, with solid context about homeless in D.C. yet reflecting and causing its readers to reflect on what is happening in the rest of the country if not the world. All the news fit to print? Nope. Street Sense wants to educate people by breaking down stereotypes and misinformation.
Because so many of its editorial staff are D.C. residents who are former homeless and homeless, Street Sense, has a formidable advantage over other news media regarding news reportage, insight and context about the realities of homelessness. That explains why it has been wracking up journalism awards for years. [Click here and here for awards].
Before Street sense, White lived on the streets for three years – perilously – never knowing where she would sleep safely or eat a decent meal. Just to get a shower, she would have to sign up for a location yet wait as much as a week or longer to get her hands on soap and water. Eventually, she was accepted into a women's shelter where the accommodations were "awful" but not enough to thwart her from also enrolling in the University of District of Columbia to study for an associate's degree in journalism.
News pictures and images of homeless people are ubiquitous, and White wants Street Sense readers to view her pictures to experience of the realities of homeless unlike any they might have ever had. She also wants them to feel the images so that Street Sense readers become empathetically compelled to tell local elected officials to end homelessness because it's morally wrong.
White, 59, is Director Laura Waters Hinson's most eloquent protagonist in this documentary of eloquent protagonists – so extraordinarily made that critics are buzzing about its Oscar consideration.
More Background Info About the Film

From Production Notes: Director Laura Waters Hinson is a film professor at American University where she directs the Community Voice Lab and leads the Social Impact concentration for the MFA film program. Previous projects include AS WE FORGIVE, a film about Rwanda's reconciliation movement, which won the student Academy Award for Best Documentary and received many awards and lots of recognition. She also directed the narrative short MOVING VIOLATION, which received Best Narrative Short at the DC Independent Film Festival. Hinson's films have appeared on PBS, WORLD's America Reframed series, ShortsTV and Curiosity Stream.
Photo-Journalist, documentarian and raconteur, Sheila White is a student at the University of the District of Columbia. Her eight-year experience with homelessness ended in May 2020. A life-long D.C. resident and member of the Homeless Filmmakers Cooperative, White's work has been published by Street Sense Media, the International Network of Street Papers, Law at the Margins,  and DCTV where she has worked as a certified producer. Sheila is  an active member of the People for Fairness Coalition, D.C.'s top homeless-run advocacy group, also serves as an Impact Producer for the Street Reporter documentary.
"Being a journalist means a lot to me. I am a living witness to the truth about homelessness due to my personal experience with homelessness. I am still living through the process. As such, community journalism is very important to me. The community needs to know what is going on in each neighborhood when it comes to this issue. We must educate ourselves and then let our government officials know that this is unacceptable." – Sheila M. White

---
---
Gregg Morris can be reached at gregghc@comcast.net, progreggwmorris@gmail.com. In these chaotic times, he finds himself preferring movies that not only inform but galvanize and inspire people to think outside the box – absolute consider making waves.