QUEEN OF THE DESERT has been named an Official Selection of the Baltimore Black International Film Festival, the Toronto Black Film Festival, the Denton Black Film Festival (where it was named Finalist in the Best Shorts Narrative Category), the Front Range Film Festival and the Through Women's Eyes International Film Festival.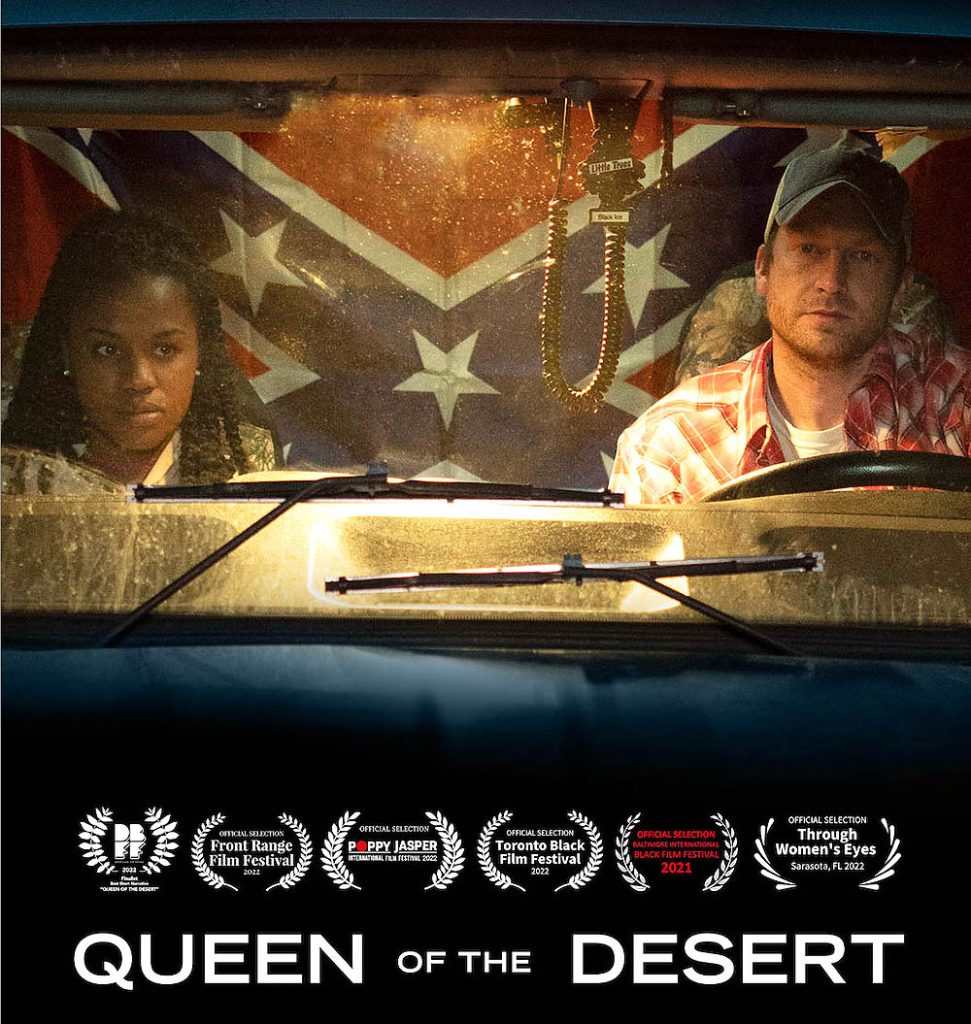 QUEEN OF THE DESERT is Director Mary Ann Rotondi's creative endeavor to make a movie commentary about what she believed were the dynamic social and political forces menacing this country and how they might be resolved. Rotondi, who won Best Woman Directed Short at the 2022 Poppy Jasper International Film Festival, uses two characters of different gender, ethnicity, personal values as well as social and political mores to express her point of view that the power of people's shared humanity can ameliorate the centrifugal forces she believes are tearing away at America.
At first, this reviewer thought it was unrealistically idealistic. It didn't make sense how Gus, White, an unabashed patron of Confederate mores and memorabilia, would try to protect Livy, Black and stand-her-ground-proud, from a menacing state trooper. The empathy between the key characters seemed to form too fast for their differences to positively coincide.
Yet, it's small and intimate details intricately woven into the story that give QUEEN OF THE DESERT clarity and make it shine. For example, parallels are revealed in selected scenes in the course of the 14-minute film. That is, those of Gus' troubled daughter and Livy, who is also troubled, allowing Gus' fatherly instincts to kick in, thus helping a young woman in need regardless of her race.
Also, just as telling but also subtle, was Director Rotondi's scene of Livy finding a photo of Gus' daughter right before they get pulled out of the truck by the state trooper.
The scenes of Livy's reminiscing about the thralldom of slavery and her heritage refute Gus' reasons for proudly displaying the confederate flag and the ethos it represents, thus revealing his flaws in the way he sizes her up. Yet, Livy's stereotyping of Gus reveals her flaws in sizing him up. The scene of them sharing a bag of chips shows how their misbeliefs and narrow-mindedness can morph into a newfound level of mutual respect.
Scenes like these allow us to understand the characters more and witness their metamorphosing development throughout the film. They also can encourage audiences to check up on their empathy
The cinematography is gorgeous. Juxtaposition of the cramp setting of the cab and the panoramic-like views of the desert with scenes of two people at each other's throats before the setting in of relative harmony and the sharing of a stolen bag of chips powerfully symbolize the director's theme of how a true rapture can help transcend the gulfs that seem to separate us.
The soundtrack cuts in and out with an almost hypnotic drone. This accentuates the tension throughout the movie. Even as the credits roll, the soundtrack is robust.
Altogether, this film is a cinematic amalgam of tension, flaws, understanding, humanity and fulfillment in a terse and well orchestrated short. While it could take a couple of viewings for audiences to understand and appreciate the essence of QUEEN OF THE DESERT – and that's not an unpleasurable experience – the film succeeds illustrating what inspired the director to make her film – and to believe that we will believe.
---
According to film publicity, QUEEN OF THE DESERT was inspired by Director Rotund's visits to her home in Montana where she frequently encountered the Confederate flag. Montana does not have any meaningful connection to the Civil War, nor does it have having a sizable Black population. What is it about this symbol that is so powerful that cities and states around the country are removing Confederate memorabilia from government operated lands and venues. [Click here for more info.]
Cast & Crew
Robert Eli as Gus
Michael Angelo Hodge as Second Police Officer
Andrew Keller as First Police Office
Jade Radford as Livy
Produced by Jeanette Bonner, Ann Rotondi
Music by Simon Taufique
Cinematography by Luke Askelson
Film Editing by Emily Chao
Everyone Else
---
The Academy of Motion Picture Arts and Sciences, responsible for protecting and perpetuating the art of motion pictures, states that any film is a "short" if its runtime, including credits, is less than 40 minutes. Nevertheless, short films are creatively and professionally indistinguishable from longer-running "feature films."
Aesthetically there are no technical differences between short and feature films, that is, they use the same processes for casting, production design, lighting and photography. The run time is simply shorter.
There's a variety of reasons filmmakers opt to make short films rather than feature films, but it nearly always boils down to budgetary constraints. The old adage "time is money" is more relevant in filmmaking than just about anywhere; after all, each page of your script constitutes roughly one minute of screen time, and each minute of screen time necessitates longer casting contracts, longer crew hires, longer equipment rentals, and so forth.
Short films, however, play an incredibly vital role in Hollywood beyond simply cost-savings — they also help identify rising or undiscovered filmmaking talents. That's why you'll often see film festivals dedicated to short films, or dedicated short film competitions within larger festivals: for up-and-comers on a budget, it's the best way to increase your visibility and provide Hollywood suits with a sample of your filmmaking prowess.
Click here for Short Film Source Information Used for This Article
Luis De Leon can be reached at ldeleon1129@gmail.com