"Movies are so rarely great art that if we cannot appreciate great trash, we shouldn't go at all," Pauline Kale was quoted as saying. And Roger Elbert, author of "Your Movie Sucks," once acknowledged that some of his fans confided in him their need sometimes to see really bad movies even though the reasons were never explained. This reviewer believed those comments needed to be aired for the edification of WORD audiences before he got into the guts of the review of first time director Zach Koepp's 77-minute-long THE WILLOWBROOK. A Gravitas Ventures release on digital platforms November 8, 2022. A running time of 77 minutes, not rated by the MPAA.
According to Rag Tag Pictures Production and IMDb: A well known wellness influencer invites one of her followers who overdosed on drugs to recover at the influener's small town manor under the influencer's therapeutic supervision. Soon after the follower arrives – with her brother in tow – she discovers the evil essence of the manor. With a gripping and fast paced tone, this film explores the duplicitous side of social media.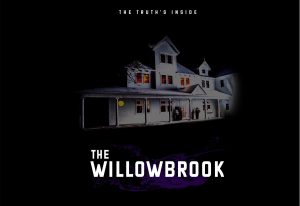 It takes a long time, and I mean a really long time, for the influencee, Jordon, played by Erin Day, to see the manor for what it is: A version of Dante's Malebolge and that her influencer, Lacey, played smartly by Jessica Bishop, is about as empathetic and sympathetic as Jim Jones was with his followers in Jonestown, Guyana.
But what's going on in Jordon's head? She looks into the face of evil and can't recognize the menace before her? And what's going on in Lacey's head?
What at first looked like meandering and zigzagging in the way that THE WILLOWBROOK explores the "duplicitous side of social media," with its eccentric and loony characters, results in a creatively crafted, arcane movie to say the least. On his first looksee, this reviewer thought this has to be a parody; on a second, has to be a burlesque; on a third, the final, it was decided that THE WILLOWBROOK fits comfortably in a sub-genre in the making: Weird.  Was I missing metaphors. Parables? Allegories?
THE WILLOWBROOK opens with a smashing panoramic aerial view of a wintry landscape with rotating turbines standing tall here and there on the landscape and a film score foreboding (composed by Sean Schaffer Hennessy). The scene segues to a wintry estate – and in a blink – bare feet racing through snow; the sound of hard breathing; the audience sees a woman, brown skin, stringy hair, fleeing like a wounded doe.
The sharp report of a gunshot! Her desperation shows. Another gunshot. And a third. Then the big letters: THE WILLOWBROOK. A bada bing, bada boom hell of an opening.
Cut to Lacy, a so-they-say awesome social media influencer, played by a garish, grimly gleeful Jessica Bishop, livestreaming about "trusting in the flow of life" as flashbacks of various film characters appear, auguring things to come, even though we in the audience can't quite make sense of what we are seeing at this stage of the film.  A face rouged like that attracts 1.1M watching?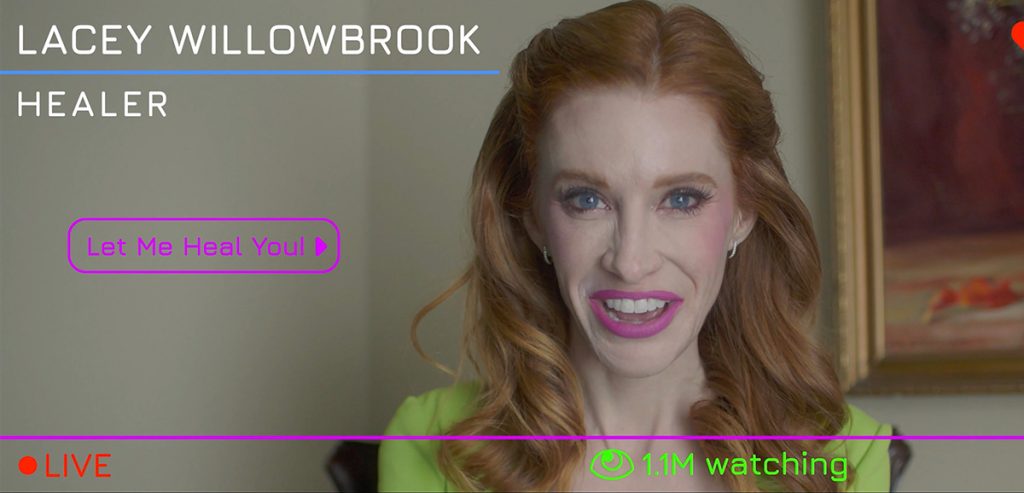 Lacy, as it turns out, is a narcissistic psycho catfish with a fetish yet to be codified in the Diagnostic and Statistical Manual of Mental Disorders (DSM). A feminized Doctor Jekyll & Mister Hyde on steroids and nuts beyond belief. She lures selected cultish acolytes to her remote estate with promises to nurse them back to health. Once on the remote estate, they are reduced to a comatose state and blood-sucked, though the bloodsucking is more in spirit than fangy oriented. Duplicitous social media be damned!
And it's about this time, about 10 minutes or so into the film, that THE WILLOWBROOK seems to metamorphose, that the filmmakers in exploring the "duplicitous side of social media" have funneled the audience into an eerie cinematic landscape populated with several characters who seem to be nincompoops with dull senses. But there wasn't one moment when, so to speak, I wanted to flip the channel. I was hooked! And not quite sure why.
Caveat Lector WORD audiences: Take heed of the Zen of Pauline Kale & Roger Ebert – and don't be surprised that you might, as this reviewer did, watch this film over and over to make sense of what streams before you.
---
So just to clarify: Jordan (Erin Day) has been invited to The Willowbrook wintry estate because of anear fatal overdose. She arrives in a state of high melancholy which fades, like her goth makeup, over the course of time. She is most definitely Ace, her brother, played by Lawrence J. Hughes, accompanies her. [Hint: Ace is a doofus. Think of him as one of The Walking Duh.]
Audiences keying in on the characters should not be stymied by a plot, narrative, whatever, that seems more arcane than normal. There is this mute guitar player (Kyle Klein), for example, who witnesses Lacey deceive family members who come looking for missing love ones. And then there's Christian Olivo as Adam who deadpans his way through the film beating on kitchenware – absolutely no drums – and is smitten with the melancholic Jordon. And a snarling, homicidal, human trigger finger, Dakota, played by Chris Boudreaux. And so on.
Audiences should not get upset that they have to seethis movie more than once to make sense of it. After all, THE WILLOWBROOK is on digitalized platforms.
Written, Directed by Zach Koepp
Primary Stars: Jessica Bishop, Erin Day, and Lawrence J. Hughes
Executive Producers Zach Koepp and Bethe H. Gordon
Producers Jeffrey Reddick, Jessica Bishop, Krista Kolegraff, Aaron Hammersley, and Greg Bekkers.

Gregg W. Morris can be reached at gregghc@comcast.net, profgreggwmorris@gmail.com