The top 10 films of the Film Lab's 19th annual 72 Hour Shootout filmmaking competition (the "Shootout") premiered July 19, 2023, at the Asian American International Film Festival.  The films showcased new and emerging writers, directors, producers, and actors of color, with a focus on Asian Americans, women and other filmmakers of color based on the theme DiscrimiNATION: A Thousand Tiny Cuts.
Jennifer Betit Yen, actor and President of the Film Lab,  "Filmmakers this year showed limitless creativity with films showcasing laughter and beauty through pain – it was so hard for the judges this year.  I think they wanted everyone to win!" Shootout Coordinator Andy Lee agreed, noting that the theme of the competition required filmmakers to address the cumulative effect of microaggressions based on race, gender or sexuality.
The theme of this year's Shootout, "DiscrimiNATION: A Thousand Tiny Cuts," created the focal point for the top 10 winning line-up of films which included:
GRAND PRIZE: Kevanu by Team The Chew Tube; 1st Runner Up: Tiny Cuts by Hannah So; 2nd Runner Up: Check by Team 3 Pieceus Entertainment.
Remaining Top Ten Films: Curb Bias by Team Not Doing That; Asiancy by Team Sedulous Films; The Plastic Smile by Team Troupe 6 Productions; Dent by Team Key and Fill; The Karen Issue by Team The Anti Karen Krew; ; It's Another One by Team Cho-Veri-Goo Trinh's Tacos by Team Spiky Fruits.
Individual Prize Winners included: Francis Chin of Team Triscribe – Most Original Use of Theme, Jenni Lo Pan of Team Rice Lovers – Best Direction, Ino Yang Popper of Team Fears of Joy – Best Cinematography, Sean Nguyen of Team Sedulous Films – Best Actor, Lois Shih of Team Spiky Fruits – Best Actress, Aman Bains, Amanda Chu, Jenni Loo, and Tasnuva Shehrin of Team Mango Mango – Best Screenwriting, Hannah So won Outstanding Female Content Creator for her film Tiny Cuts, and Bantay Productions team captain Jeremy Rafal took the award for Best LGBTQ Content Creator.
The top 50 films will be televised this fall as part of Film lab's long-running series, Film Lab Presents.  The top 100 films will be released online at www.YouTube.com/AsAmFilmLab.  Subscribe for free to gain access when each one premieres.
About the 72 Hour Shootout
The Shootout is a worldwide filmmaking competition celebrating gender and ethnic diversity in film in which filmmaking teams are given this common theme at the start and have 72 hours to write, shoot, edit, and complete short films up to five minutes in length. The films celebrate diversity and the filmmaking teams compete for industry mentorships, cash, prizes, and exhibitions ranging from the prestigious Asian American International Film Festival, the only festival of its kind on the East Coast, to CrossingsTV, AAFL TV and other exhibition venues.
The Shootout creates opportunities for filmmakers of color and women, with a focus on Asian Americans, to demonstrate their talent, gain exposure in the entertainment industry and create positive and significant impact on the visibility of Asian and Asian American and other diverse stories and characters in film and television.  One of the Shootout requirements is that at least one key production member (e.g., director, producer or writer) and a principal actor from each team must be of Asian descent.
More information at www.film-lab.org and https://www.facebook.com/72hrshootout.
About Film Lab
Film Lab is a non-profit 501(c)(3) headquartered in New York City that provides free or low cost programming to promote and support ethnic and gender diversity in film and television. The membership comprises professionals, artists and other talented individuals who all share the common goal of creating great film and promoting Asian American filmmakers and other filmmakers of color, and the visibility of their stories and characters in film and television.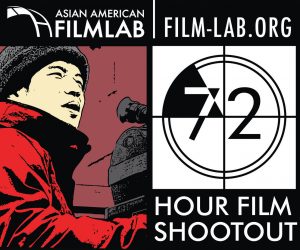 Film Lab's programming includes the Industry Spotlight program, in which established industry professionals share their knowledge, expertise and advice via filmmaking workshops, screenings and more.  Other Film Lab programs include Unfinished Works, a program for aspiring writers in which selected writers have their pieces performed by Film Lab Actor Directory members in a public table read, followed by a workshop moderated by Film Lab Unfinished Works Coordinator.
The Film Lab also holds film competitions including the annual 72 Hour Shootout®, which has inspired hundreds of filmmakers by helping nascent talent take brave steps towards a filmmaking career.
The Film Lab management team consists of Jennifer Betit Yen (President and Board Member, founder of AAFL TV Production Arm), Ray Lanuza (Treasurer and Board Member), Georges Bridges (Community Outreach), Andy Lee (Shootout and Unfinished Works coordinator), Luana Sandoval (social media coordinator), and many more, along with a dedicated Board and event volunteers.
About Asian CineVision (ACV) and the Asian American International Film Festival (AAIFF)
Asian CineVision, Inc is a not-for-profit national media arts organization committed to the development, exhibition, promotion and preservation of film and video by artists of Asian descent.  Founded in 1975 ACV continues to serve the Asian American media arts community by promoting the works of Asian independent and Asian American filmmakers to the broadest possible audiences, providing a window to the diverse experiences of the Asian Diaspora.
Founded in 1978, AAIFF is the first and longest running festival in the U.S. to exhibit the film and video work by media artists of Asian descent and about the Asian American experience. AAIFF continues to be a leading showcase for Asian American and Asian independent film and video. For more information about ACV and AAIFF visit: www.asiancinevision.org.
---
Film Lab Inc. Administrative Staff Group Mailbox
Film Lab Inc.
info@film-lab.org
www.film-lab.org
www.Facebook.com/AsAmFilmLab
www.Twitter.com/asamfilmlab
Read about us in The Huffington Post and Backstage Magazine
The AsAmFilmLab is a not-for-profit organization dedicated to the support and promotion of gender and ethnic parity in film and television. We are committed to challenging our membership to continually strive to be better through education, outreach and networking.

WORD Editor, Writer Gregg W. Morris can be reached at gregghc@comcast.net, profgreggwmorris@gmail.com