Now Playing at New York's IFC Center and Landmark at 57 West and in Los Angeles. A national expansion will follow.
Director: Benedikt Erlingsson
Writers: Ólafur Egilsson, Benedikt Erlingsson
Stars: Halldóra Geirharðsdóttir (Halla and Ása), Jóhann Sigurðarson (Sveinbjörn),
Juan Camillo Roman Estrada (Juan Camillo)
English subtitles
One-hour, 41 minutes of sumptuous, sensual cinematography of Icelandic landscapes – plus waves of an irresistible minimalistic film score from a three-man ensemble and a female chorus of three Ukrainian singers showing up at moments like Greek Choruses – await audiences in this film by Director Benedikt Erlingsson about an environmental gladiator who uses a bow and arrow to take out the high tension electrical towers of an aluminum corporation threatening to defoil her local community.
Benedikt's film features Halldóra Geirharðsdóttir as Halla, 51, a choir director by day and by night an arrow-firing vigilante with the emotional and physical moxie of a triathlete with a stealth mystique to boot. The local news media sensationalize her as "The Woman of the Mountain," and the government and its law enforcement wing of tactically armed police hunt her down as a terrorist. Foul weather, below-freezing rivers and law enforcement drones & helicopters using heat and infrared sensors don't deter her.
Parts of this review read like a description of a swashbuckling, mind blowing, cosmic action-adventure with a timely environmental theme right? It has the pulse and panache and soul of a swash-buckling, mind blowing, cosmic action adventure but … Director Erlingsson's melodramatic gravitas cannot be denied.
Waves of allegorical and mystical motifs flow like velvet through the narrative – so much so that this reviewer mildly hallucinated that he might actually be swept up into the screen to join Halla on her search and destroy missions and that a higher plain of aural and visual sensations could be experienced by tracking track down a WOMAN AT WAR DVD or streaming site sans English subtitles. Why? The fleeting minutes of a WOMAN AT WAR trailer – sans English subtitles – exposed him to an incredible cosmic experience akin to a flash of the mind-body-soul continuum, the dialogue understood figuratively, not literally.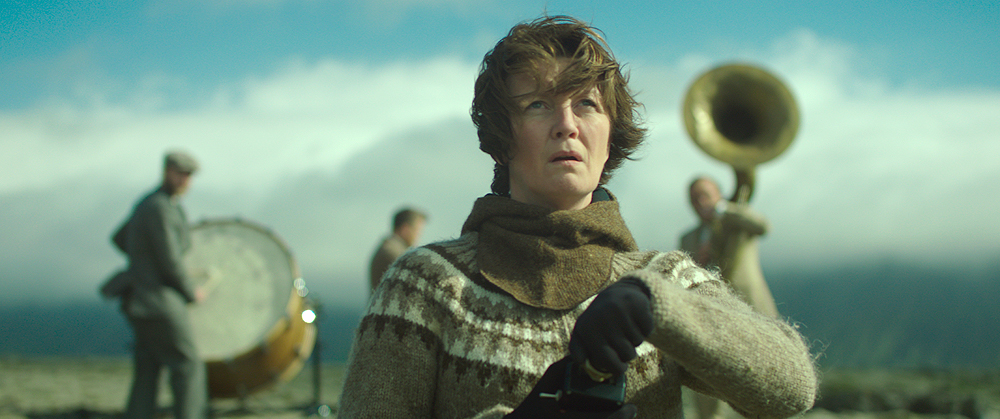 Plot
Halla, 51, is a popular choir director by day, a stealth guerrilla by night. Baldvin played by Jörundur Ragnarsson, a member of he chorus, is also a government official who's been helping her out with intelligence. He is becoming fidgety because of escalating propaganda efforts by the government to smear her and getting significant help from the obsequious news media. Law enforcement also escalate its efforts. Halla responds by engaging in more derring-do. Sveinbjörn played by Jóhann Sigurðarson, a sheep farmer, also helps her.
In the course of her tactical missions, increasing passionately, with the law enforcement seemingly getting closer to arresting her – Halla gets a letter. Letter!?! She is notified that she has been approved to adopt a Ukrainian child. She is overjoyed. Her identical twin sister Ása (also played by Geirharðsdóttir) is delighted for her sisiter. The sudden appearance of a Ása – as idealistic as her twin about saving the world but seeks fulfillment via spiritual means – ramps up things.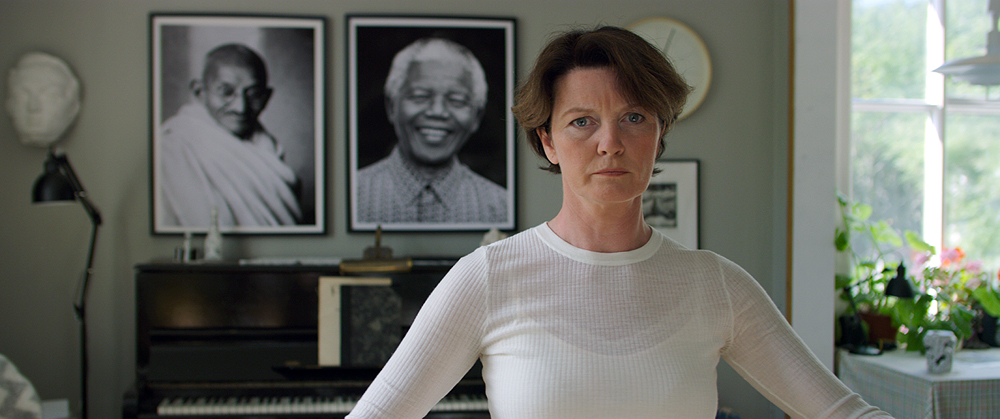 To write more may introduce a layer of unintended spoilers that this reviewer doesn't want to do.
Gregg W. Morris can be reached at gmorris@hunter.cuny.edu